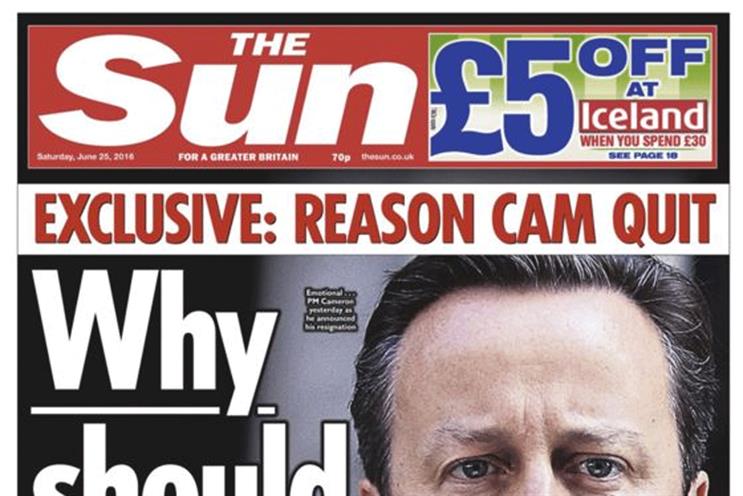 The Times said it added 100,000 copies, or 18%, on Saturday and The Guardian gained 70,000, or more than 20%.
The Daily Mirror had a 40,000 uplift, making its Saturday paper the best-seller of the year after its Grand National issue and industry estimates suggest the Daily Mail added as many as 90,000 and The Sun is thought to have gained about 52,000.
i also had a strong performance, adding 60,000 or 24% to gain its highest Saturday circulation on record in its six-year history.
Total sales were up 724,000 across three days compared to average circulation, according to Newsworks, the trade body for UK newspapers.
The average uplift on Saturday was 7% and some titles saw increases of nearly 20% on both Saturday and Sunday.
Online traffic was also up strongly for most newspaper websites. The Guardian had a record 17 million visitors on Friday.
Free print titles also did well. The London Evening Standard saw a big surge to hit one million for the first time on Friday, the day that David Cameron resigned, up from its usual 900,000 circulation.
The circulation increases will be a big tonic to the industry, which has seen years of circulation falls, with worsening print ad sales since the start of this year.
Rufus Olins, the chief executive of Newsworks, said: "Readers have always turned to newspapers at the time of big, national events and continue to do so."
Observers have credited The Sun and the Daily Mail, the two top-sellers, for helping to swing the Brexit vote because they endorsed Leave.
The Times was one of the most articulate advocates for Remain.
John Witherow, editor of The Times, said: "People turn to The Times at moments of great national significance because they trust our ability to contextualise the news and value our balanced insight and analysis on what has happened, and what may happen next."
Chris Duncan, chief customer officer of News UK, said the increase in circulation for its titles was "a clear demonstration of how print plays a role in both the campaign and in helping our readers understand the impact of the vote".
James Wildman, chief revenue officer of Trinity Mirror, said: "We've seen a noticeable increase in both print circulation and digital traffic since Thursday. We know that people's appetite for content and news is never going away but we're also seeing that, when it matters, they turn to sources of credibility, legacy and personality. People love their newspapers to guide them through these historical times."
Ashley Highfield, chief executive of Johnston Press, the publisher of i, said: "i's growth is evidence of the continued power of print." He added that i had "provided valuable, balanced context for readers making the most important decision of a generation" because it had not endorsed etiher side in the vote.
Ian Whittaker, City analyst at Liberum Capital, said in a note: "The Brexit vote should be positive for newspapers. In the short-term, it should help boost circulation revenues given the coverage given to the Brexit vote and its consequences; and in the medium to long-term, the Brexit vote – where most newspapers supported a Leave vote – will be taken as a demonstration of how much influence newspapers still have, which is a persuasive argument to use with advertisers."