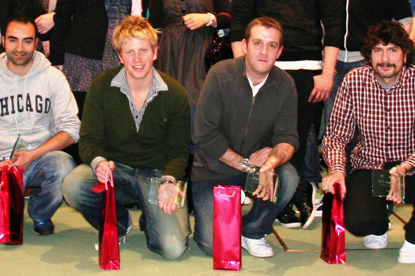 As a result, the pair will compete in the European contest Best YET, which pits young creatives from across the continent against each other on 7 and 8 May.

They will be joined by last year's winners Enrique Reija and Borja Alvarez, who came second out of 22 teams in the annual contest, which is organised in association with Campaign.

For the competition, the teams were briefed by HSBC's agency JWT to devise a campaign for the bank's World Selection global investment service that highlighted the fact it uses local expertise in markets across the world. Contestants were given just eight hours to create the campaign.

The winning campaign, devised by Talboys and Allen, who have just finished a placement at Farm, listed strands of market information from across the world such as a rise in the price of sugar in Africa followed by a detailed piece of local knowledge such as a curry night in the local pub.

Al Young, the creative partner of St Luke's, who chaired the judges, said: "The wanted ads young team of the year provides a chance for young creatives to learn about local media and the unique opportunities it gives advertisers to connect with their target audiences in a meaningful way."