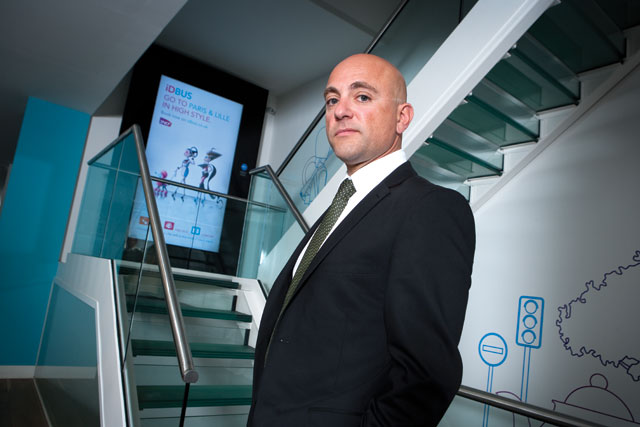 Fresh from spearheading The Guardian's assault on the US, Chris Pelekanou, who has been with the paper for 20 years, has come to Golden Square in Soho to talk about his next move. From December, the "war" with the Murdochs and dinners with Carl Bernstein will be behind him. Instead, he will enter the world of posters as the commercial director at Clear Channel Outdoor.
Despite spending two decades working for a company where editorial is king, Pelekanou says he will "probably not" miss the content. "It's not because content isn't fantastic," he explains. "And I love The Guardian. It's more that what excites me about Clear Channel is the business side of things. While I won't have content, there will be lots of other challenges and interesting opportunities."
Having worked on setting up The Guardian's US sales team during the past 12 months, Pelekanou says he had planned to consider new opportunities next year. He also says he had weighed up options every couple of years to ensure The Guardian was where he wanted to stay. But then the recruiter for the Clear Channel job came looking for him. After meeting its chief executive, Matthew Dearden, Pelekanou decided he could not say no.
Aside from the attraction of working with Dearden, who Pelekanou describes as "smart and ambitious with lots of ideas", he says his head was also turned by the rest of the team. "You can have the best strategies in the world, but if you don't have the right people, then it's not going to work," he points out. "Everyone I've met so far I've been very impressed with."
Since arriving in August 2010, Dearden has put his stamp on the business. The marketing director, Pip Hainsworth, the chief operating officer, Rob Atkinson (who was the acting chief executive until Dearden arrived), and the sales director, Steve Atkinson, have all moved on. Hainsworth was replaced by the former AOL marketer Emma Newman, while Pelekanou's role melds those of the Atkinson duo.
As the commercial director, Pelekanou will be able to concentrate on sales and marketing without being distracted by the additional responsibilities in the chief operating officer brief, Dearden explains. "I was quite excited I persuaded Chris to come," Dearden says. "He is a respected media player already. He is a good leader of people and is somebody that I would work for."
Earlier this year, the national sales team was restructured with the expensive help of McKinsey & Company. After helping to create the structure and invent new senior roles, well-regarded execs such as Richard Bon and Ged Weston have been supplanted at the top by Pelekanou and Martin Corke, who joined from News International as the agency sales director in July.
There will be work for Pelekanou to do. He joins a company that has been without a permanent commercial head for almost a year. Privately, other senior outdoor figures suggest this has hampered the industry-wide sale of six-sheets (of which Clear Channel operates the majority).
Not so, according to Nick Mawditt, the global director of insight and marketing at the WPP outdoor agency Kinetic, who praises Dearden and the team. "Clear Channel has actually been proactive in improving the flexibility in how six-sheets can be bought," Mawditt says. "Any negative impact probably has more to do with the Olympics and brands being more focused on large formats."
The new, more flexible Clear Channel that Mawditt attests to marks a change from the traditional media sales style of old. It has even been described as "cerebral". Dearden shies away from the word and insists he just wants people who sell: "If they get themselves there by being great thinkers, then great. But I don't want them to think themselves into a box."
Dearden says he sees parallels between The Guardian's journey from being a "newspaper with a website" to an "audience proposition" and the upcoming changes in outdoor. Specialists and media owners alike hope to move to selling and buying audiences rather than panels when the long-awaited audience measurement system, Postar 2, arrives.
Pelekanou is reluctant to comment on out-of-home issues such as volume rebates, the role of the specialists or whether the outdoor ad market is struggling. But he will talk about hacking. He thinks the expose actually helped The Guardian's ad sales ("people respected The Guardian for what it did") and adds Bernstein likened it to Watergate (Pelekanou says he told him it was "almost as big an event").
Two months away from taking on his new position, Pelekanou has a lot to learn about outdoor. But granular knowledge of outdoor was not one of Dearden's priorities. Indeed, Dearden knew little of the sector when he himself got the job. Pelekanou has been brought in for his leadership skills, commercial experience and, ultimately, to bring a different perspective.
To grow outdoor as a sector, large media owners need to concentrate on building new revenue streams, rather than getting a greater share of specialist budgets. Clear Channel's investment in digital and near field communication puts it in a great position to lead the way.
That said, after 20 years at The Guardian and the whirlwind past couple of years for the publisher, you would expect Pelekanou to miss content at least a little. For all his talk of new-business challenges, flexibility and new formats, Clear Channel will seem a very different planet.
THE LOWDOWN
Age: 48
Lives: Suffolk and East London
Family: Married, with two boys (aged 23 and seven) and one girl (aged ten)
Hobbies: Cycling and watching rugby
Last book read: End This Depression Now! by Paul Krugman
Alternative career: Teacher
Wish I invented: Velcro - great stuff, especially if you have children
Work/life philosophy: Trust your instinct
Motto: Dance like nobody's watching!