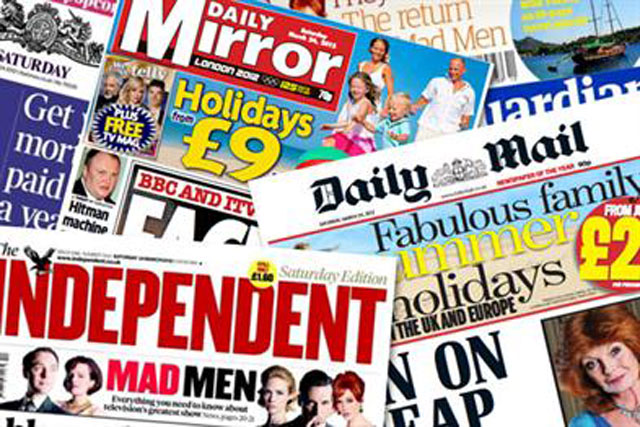 In the quarterly update to its 2012 forecast, the Publicis Groupe media agency cut its predicted total for newspaper adspend from £2.48bn to £2.37bn, singling it out as the worst performer this year.
The medium had a "very disappointing" first quarter and while the Olympics did provide a "resurgence of sorts", it was "not quite of the sensational magnitude that people had hoped for", the agency commented.
Television is expected to be down 1% to £3.26bn, replacing June's forecast of a 0.5% lift to £3.31bn. Zenith blamed the move on the Olympics being broadcast on the BBC and the economic climate, which it claimed pushed July revenue down 10% and August revenue down 9%.
The agency is now more optimistic about internet spend, which it has revised up to £4.42bn, representing year-on-year growth of 11%, from £4.39bn.
It tempered that optimism in internet display, reducing predicted growth from 17% to 15%, "because many clients avoided advertising during the Olympics and Euro 2012 events".
The agency counts spend on newspaper and magazine websites, tablet editions and mobile apps in the internet category.
Hence it was able to make positive noises about "the rise and rise of digital editions" of consumer magazines, while at the same time cutting its forecast for the sector from £820m to £810m. This is a 3.2% decline on 2011, worsted only by newspapers' 5.8% predicted fall.
Consumer magazines' decline will continue into 2014, when the sector will fall behind outdoor, which has been consistently growing, according to the agency.
Outdoor is expected to grow 3.9% this year to £782m, though this is weaker than the 4.9% growth predicted in June. Despite the downgrade, Zenith claimed 2012 would be "a strong year for revenue growth, largely thanks to heavy investment by Olympic sponsors as well as an increase in the number of brands present in the market".
In radio, slowing revenue growth after the first half of the year has led the agency to cut its forecast from 2.4% to just 0.6%.
Looking further ahead, Zenith predicts 3.4% growth for the UK ad market in 2013 and 3.9% growth in 2014.
It expects that growth to be spread across all sectors, with the exception of newspapers and magazines, suffering declines in both years, and TV, which will be flat in 2013 before notching up 2% growth in 2014.
Follow @DanFareyJones