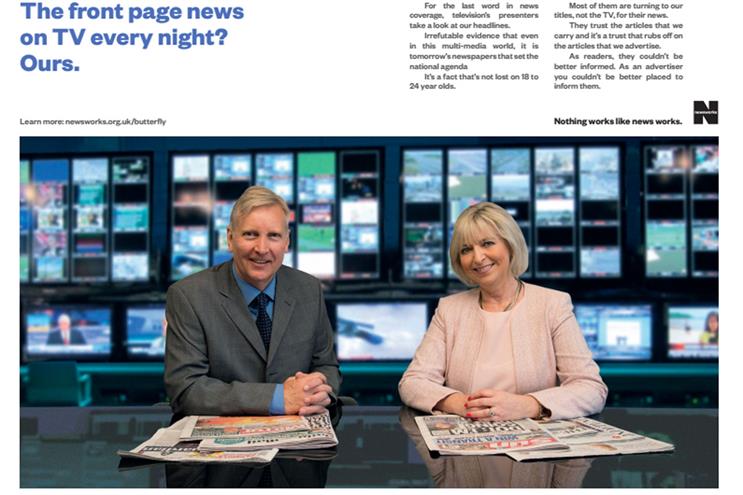 The campaign, organised by newspaper marketing body Newsworks, will run for eight weeks from tomorrow (2 September) with the tagline "Nothing works like news works."
The creative, devised by Holmes Hobbs Marcantonio (HHM), aims to highlight how newspapers still command a high level of popularity and attention in the digital age, and therefore remain relevant for readers and lucrative for advertisers.
Six ads will be featured in the campaign across 18 titles published by Guardian News & Media, The Independent, DMG Media, Mirror Group Newspapers, News UK, and Telegraph Media Group.
One print execution will display news presenters resting their hands on a stack of newspapers with the accompanying text: "The front page news on TV every night? Ours."
There is also a 40-second film entitled "Media butterflies", comparing the "receptive, engaged and absorbed" newspaper audience against the "surfing, scrolling and skipping" media users of today.
Rufus Olins, the chief executive of Newsworks, said: "Technology and the arrival of tech organisations has transformed the way all of us find information, which means the important role newspaper brands play can sometimes be overlooked.
"We felt it was time to remind people about the job they do and extraordinary influence they have over people's opinions and decision-making.''