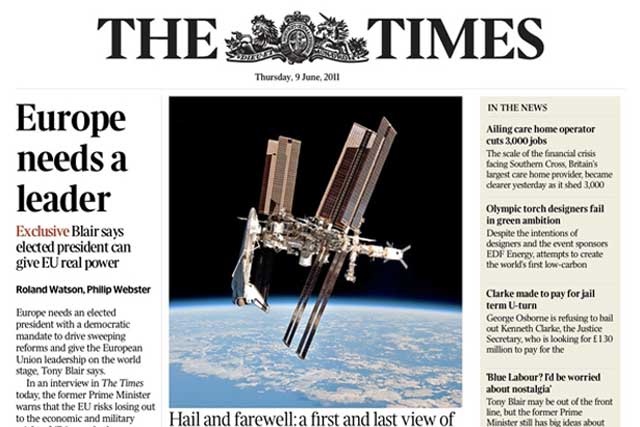 So, farewell, the Newspaper Marketing Agency - and hello Newsworks. At first sight, the new handle features too many Ws in close proximity to be an aesthetically appealing proposition. But we will all get used to it sooner than we think. At least we've been spared the efforts of the sorts of branding gurus who use only the highest-scoring letters in Scrabble.
The rebrand is the first stage of a modernisation process that began when Rufus Olins was appointed to succeed Maureen Duffy as the NMA's chief executive. Duffy had been the boss of the agency from its launch in 2003 until the end of 2011. Olins, appointed in January, took up his position in mid-February.
The NMA had been pretty good at talking up the conventional ink-on-paper national newspaper medium as an advertising proposition - rewarding the very best in creativity, while generating the sort of case study material that helps convince advertisers about the medium's effectiveness. Arguably, though, it wasn't quite as good at selling the merits of the sector's digital platforms.
Thus the determination to lose the word "newspaper". Olins says that the rebrand is symbolic of a new reality in the national press, a reality in which titles operate across a range of platforms - computers, smartphones and tablets. He adds: "The media landscape is evolving fast, and this is affecting the national press as much as any other medium. We need to start thinking differently - it's not just about printed newspapers, it's about news brands in all their forms."
And this is undeniably true up to a point, the point in question being this one: it's hard to conceive of anyone in the industry not knowing that, say, The Telegraph or the Mail or The Sun can be accessed through a variety of channels these days.
So "thinking differently" really means "spending differently". And in that context, when Olins says "we", he actually means the agency world.
1Newsworks is funded by six national newspaper groups: Guardian News & Media, Independent Print Limited, Mail Newspapers, Mirror Group Newspapers, News International and Telegraph Media Group. It is charged with presenting the medium in the best possible light - thus allowing the sales teams of individual media owners to maximise their advertising revenues. It is overseen by a committee chaired by Paul Hayes, the head of commercial at News International.
2It does not quite represent a united front, however. Express Newspapers withdrew in 2007, arguing that it was not getting value for its annual membership fees of £250,000. In January, its owner, Richard Desmond, indicated that he remained sceptical about the NMA's merits, telling the Leveson inquiry that he considered it "redundant".
3And, as Olins recognises in his introduction to its new manifesto, Newsworks faces a tall order. He states: "Far from facing inexorable decline, the revolution in digital technology has provided the newspaper industry with an extraordinary opportunity to increase its reach and influence. And it is taking it by expanding into online and mobile platforms, albeit at the cost of heavy investment for less financial return." That's a rather telling "albeit".
4Over the years, the NMA's highest-profile initiative was its creative awards scheme - the Annas. The scheme recognised the best print ad each month and handed out gongs at an annual prize-giving show. There was speculation at this year's event in February that the scheme was likely to be ditched - and, indeed, there's no mention of it on the new Newsworks website.
5The Newsworks site replaced the old NMA one last week - and a more thoroughly revamped offering will be launched in the autumn.
6Last week, Newsworks also announced that Vanessa Clifford, the head of press at Mindshare, is to join as its director of client services and strategy. She will oversee relationships with media agencies and advertisers.
7Newsworks has taken a leaf out of the book of its counterpart in the TV medium, Thinkbox, by hiring an irresistibly pitiful-looking dog as its lugubrious figurehead. The Radio Advertising Bureau will almost certainly now have to up the ante by acquiring a kitten.
WHAT IT MEANS FOR ...
Newspapers
- The industry is absolutely crying out for inspired leadership in the digital domain - and Newsworks could conceivably become a focus for that.
- Aside from some notable recent exceptions, media owners in this space have a lamentable track record when it comes to developing new advertising formats. Someone needs to convince them that there might be a hugely profitable life beyond banners and buttons.
- Someone, somewhere, in other words, has to start evangelising on behalf of digital display. But this is a mammoth task - because even at the level of basic site design and content layout, the performance of many news outlets remains barely better than dire.
- Newsworks needs to build its members' confidence in their ultimate place in the scheme of things.
Advertisers
- Vanessa Doyle, the head of press at Initiative, argues that Newsworks has made a very encouraging start. She says: "The relaunch presentation booklet does a really compelling job of selling the medium. I think Rufus Olins has made some great steps so far and it feels like the media owners are finally prepared to work convincingly together. That can only bode well for the future."