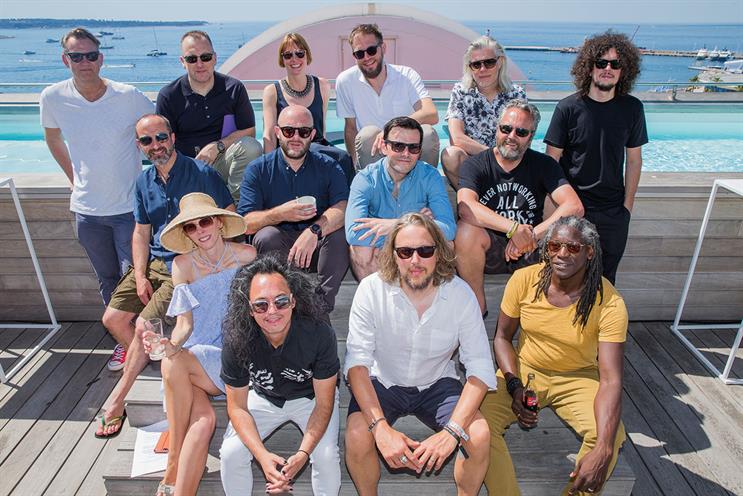 Under a scorching Cannes sun, Campaign and AOL gathered some of the finest creative minds in adland to discuss the future of the industry.
Advertisers face seismic shifts in their interactions with consumers, a rapid and accelerating pace of change, and evolving disciplines that require a rethink of how agencies are structured – and even what they should aim to do for clients.
The pace of change
"Everything has to be faster and quicker; reacting smarter and cleverer," Steve Aldridge, creative partner at Partners Andrews Aldridge, said. "Craft is a key component, as it creates differentiation."
Hermeti Balarin, executive creative director at Mother London, agreed. "We're so slow as an industry – we talk about making stuff for months," he said. "We miss opportunities just by talking about it. It takes us so long to come up with something, approve it, make it, fiddle with it, that it's not relevant any more."
"Consumers are outpacing marketing," AOL digital prophet David Shing said. "Brands say 'I want some of that, why can't you move that fast? And by the way, we have to RFP it.' Trust is lacking; that's why you see so many brands switch, and then clients lose their discipline."
All this affects the relationship between media-owners and agencies. "As a media-owner, the speed at which we're being asked to respond is getting faster," says James Hayr, head of Partner Studio, AOL's branded-content studio. "We get two briefs a day, [and] 48 hours to turn them around. The complexity of the stuff we're being asked to produce now requires a new kind of collaboration between agencies to solve."
The end of the consumer
A more empowered, mobile, millennial audience armed with ad-blockers is a clear signal of the profound change in the nature of the consumer.
David Billing, founding partner and executive creative director at Above & Beyond, considered the very idea of the consumer "old hat". "It's about the audience – an audience is empowered to walk away." He noted that 70% of internet traffic will be video by 2017. "It's not enough to say 'Here's our ad, lap it up.'"
David Buonaguidi, chief creative officer at Crispin Porter & Bogusky London, aims to balance culture, business and creativity. "When you hit that sweet spot, you should be trying to get into culture – news feeds. The best work I've seen over the last five years isn't stuff I've seen in adland, [but] in the real world."
This media landscape is characterised by social. Snapchat dominated the Palais des Festivals with a billboard featuring its logo, but no text. It felt confident enough to present itself in this way because it has rendered the concept of ad space invisible, according to Chad Warner, integrated creative director at McCann London. "Snapchat is the absence of interface," he said. "It's interesting because it's counter to the idea that you have to document your life, and can always go back on it. The platform goes away; the idea that I watched this ad, I shared it, goes away."
Advertisers are vying for attention not just with each other, but with every member of their smartphone-wielding audience. Shing argued that, as a result, there's a move away from awareness-based advertising toward advocacy.
"Everybody with a phone is a publisher and a photographer," he said. "The challenge with media agencies is they don't own any asset… with creative agencies [it's that] they don't own scale."
Audience networks are being locked down, Shing observed. "It's going super-niche. If I ask high-school kids: 'Who's on Instagram?' Boom – 100% of the hands go up. 'Whose Instagram is set to private?' – 100%. Which means you don't have permission as a brand to talk to them."
The shape of agencies to come

The delegates agreed that creative agencies must alter their internal structures and relationships with clients and media agencies to thrive in this environment.
"We have to be quicker," Marc Nohr, chief executive of Fold7, said. "We need a more diverse mix of talent than we have access to – but who's going to help clients navigate this landscape? That's where they're turning to media agencies."
Buonaguidi said: "The big problem is still the media companies that tell clients where to spend their money. The industry needs more entrepreneurial creative thinkers who like solving problems. It's not about creating ad agencies any more, it's about creating entities, groups of people who know how to solve clients' problems."
However, cross-discipline hires present their own challenge – fitting into a standard agency structure. Grey London managing director Natalie Graeme said: "I've hired cross-discipline makers and strategists – they come up with the idea, they're writing it while they're on the shoot. But they're like the 'odd squad', they don't fit into a traditional agency."
Buonaguidi's solution was simple: "Make the business the 'odd squad'; don't worry about what anyone else is doing."
Another potential avenue of exploration is for agencies to shift gears and produce their own products in response to client needs. Shing cited the example of some that have moved into brewing. "It's not about communications any more, it's about whatever you want to do to the audience that cares about it."
Warner pointed to Domino's, which redefined itself as "a technology company that happens to make pizza". "They realised [that] to be able to do things that were interesting, like an emoji pizza, they needed an infrastructure. They put a radical shift on what they believed they are. Imagine if you did that with your brands – that would influence a lot of the media conversations they would have."
For Andy Sandoz, executive creative director at Havas London, the challenge is in the clients. "We have to look at what they are and restructure them," he said. "More clients are asking me: 'What shape should we be, how will my business be fit?' You're in consultancy territory."
Warner had an alternative view. "We need to re-centre clients around the idea you need one agency to be your brand guardian. I want to make sure we agree on what we're trying to achieve, and how we build brands."
Aldridge said brands have to own the creative space – or clients will take it in-house. "You have to have this consultative behaviour where you have something clients could never have. You can bring that diversity, those skills; you have a broader team of creative thinkers. All kinds of roles will change and merge; what we do has to change and merge."
Trevor Robinson, founder and executive creative director of Quiet Storm, said it all comes down to entertaining the audience – "on any level". He added: "The disposable nature of the conversation that's happening is about stimulating people. The key thing is now, everybody gets bored so quickly. Move on."
---
"Trust is lacking; that's why you see so many brands switch, and then clients lose their discipline" - David Shing digital prophet, AOL
"The best work I've seen over the last five years isn't stuff I've seen in adland, but in the real world" - David Buonaguidi CCO, Crispin Porter & Bogusky London
"The complexity of the stuff we're being asked to produce now requires a new kind of collaboration" - James Hayr Head of Partner Studio, AOL
"All kinds of roles will change and merge; what we do has to change and merge" - Steve Aldridge Creative partner, Partners Andrews Aldridge
Group photo (back row, l-r) James Hayr head of Partner Studio UK, AOL Marc Nohr chief executive, Fold7 Natalie Graeme managing director, Grey London Chad Warner integrated creative director, McCann London Steve Aldridge creative partner and chairman, Partners Andrews Aldridge Hermeti Balarin executive creative director, Mother London (Middle row, L-R) Trefor Thomas chief creative officer, LIDA David Billing executive creative director and founding partner, Above & Beyond Andy Sandoz executive creative director, Havas London David Buonaguidi chief creative officer, Crispin Porter & Bogusky London (Front row, L-r) Claire Beale global editor-in-chief, Campaign (chair) David Shing digital prophet, AOL Cave Ellson head of digital delivery, Adam & Eve/DDB Trevor Robinson founder and executive creative director, Quiet Storm