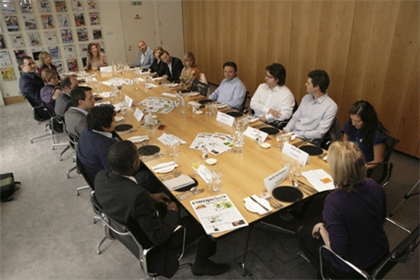 AROUND THE TABLE (clockwise from bottom left)
Ade Adefala,senior sales executive, Campaign
Zaid Al-Zaidy, managing partner, Saint@RKCR/Y&R
Ciaran Norris, director of invention, Mindshare
Stuart Derrick, journalist, Campaign
Jude Brooks, GB interactive manager, Coca-Cola
Ivan Skoric, co-founder and managing director, TSL Digital
James Devon, planning director, MBA
Suzanne Bidlake, associate editor (reports), Campaign
Claire Beale, editor, Campaign
Marc Giusti, group chief digital officer, Leo Burnett
Katie Streten, head of digital insight, Imagination
Martin Bailie, head of planning, glue Isobar
Emma de la Fosse, creative director, OgilvyOne
Shaun Gregory, managing director, O2 Media
Howard Scott, digital marketing director, Sequence
Matt Dyke, founding partner, AnalogFolk
Sarah Virani, account manager, Campaign
Noelle McElhatton, editor (creative solutions), Haymarket Brand Media
Matt Dyke and Kevin Sutherland, AnalogFolk
Damian Ferrar and Katie Streten, Imagination
Giles Hedger and Marc Giusti, Leo Burnett
James Devon and Graham Kerr, MBA
Annette King and Emma de la Fosse, OgilvyOne London
Jim Moffatt and James Temple, R/GA London
Adam Graham and Zaid Al-Zaidy, Saint@RKCR/Y&R
Richard Baker, Howard Scott and Mark Johnson, Sequence
Digital's Data Future - Roundtable discussion
By Stuart Derrick
With agencies still having to prove the effectiveness of digital to clients, there is a growing focus on data in the quest for greater engagement
Anybody who missed the introductions at the latest Campaign digital roundtable may have been forgiven for thinking they had stumbled into the wrong room.
Talk around the table ranged far and wide, but was less about the banners and buttons of yore than data, insight and how to take on big marketing. One thing was clear: here is a sector that is intent on shrugging off the preconceptions of other marketers and ploughing its own furrow.
As is customary at these affairs, the discussion kicked off with the more downbeat topic of the downturn. The feeling was that, in line with recent Bellwether Reports, the worst seems to be over. Budgets are moving into more accountable, less expensive and more controllable areas, which is to digital's advantage. Clients who have previously capped digital spend at 5 to 15 per cent of marketing budgets are now looking to invest more, Marc Giusti, the group chief digital officer at Leo Burnett, says.
Despite this cause for optimism, there was still a sense that digital remains a junior partner in marketing terms. This is partly historical, Zaid Al-Zaidy, the managing partner at Saint@RKCR/Y&R, says: "Some clients are still using the 70s' marketing handbook and don't know how to handle or where to put social networks. Until that generation moves on, this is their instinctive behaviour."
Jude Brooks, the GB interactive manager at Coca-Cola, agrees that there remains an old school who feel safe with what they know: "Change scares them. Everybody wants things that work and proving that they work is the challenge. But I hate the idea that you have to take money away from TV. It's never going to happen."
The old school ignorance about digital's role infuriates Ciaran Norris, the director of invention at Mindshare: "The guys at the top table are well respected and awarded and they can spend millions on a five-minute ad. But when there's nothing left for media, they say: 'Put it on YouTube and it can go viral.' You want to scream."
The challenge for digital, he says, is to prove its value beyond the click and to start to eat into TV budgets. This would require a different measure of ROI: "It has to be about engagement and emotion. Agencies and publishers have to prove to clients the value of digital, because they are still unconvinced compared with TV."
This calls for some handholding of clients, Katie Streten, the head of digital insight at Imagination, admits: "The emphasis is on us to prove what digital can do and not push when it's inappropriate. For instance, we have a client moving from print to digital, which is less scary for them."
James Devon, the planning director at MBA, agrees: "You need to show the power of ideas and the fascinating things you can do online. It's better to start with something small than try to replace TV straight away."
Part of the challenge for the "digital" sector is that the descriptor is almost a devalued currency as most agencies now claim some expertise. Brooks says it can be difficult for clients to sift through competing claims. "Digital is an enormous area covering everything from paid search to PR," she says. "You won't find all the skills in a one-stop shop, but agencies are all trying to do each other's jobs."
To Giusti, digital's junior status demonstrates the value of embedding the discipline in an integrated setting, where it would have a seat at the top table. Too often, infighting among the various disciplines obscures the picture: "Clients want simplicity but they are asking feuding guilds to beat on one another until there is a last man standing."
Martin Bailie, the head of planning at glue Isobar, evokes the IPA president Rory Sutherland's image of going to a restaurant and being accosted by six waiters, each with a different menu. Clients may like competition as a spur to excellence, but it can confuse rather than enlighten.
One agency that claims to have sidestepped this paradox of choice is R/GA. The company's award-winning work for Nike+ was name-checked on several occasions as an example of how digital can engage with a big idea. Nike's collaboration with Apple's iPod created a digital tool for runners to measure their performance. It has also given Nike an online platform to speak to a key audience.
James Temple, the executive creative director of R/GA in London, who couldn't be at the lunch, says brands are starting to understand that communicating in peaks and troughs of media is not enough: "They need to provide a platform to engage an audience and have a conversation rather than bombard consumers with communication and try to control it."
However, such an approach is not universally applicable. Although brands now come to R/GA and say that they want their own Nike+, Temple says they have to show a dedication that goes beyond an annual marketing programme: "Traditional marketing teams are structured for short-term activity, but Nike+ is in its fourth year. It is a platform and you have to feed it, so you can't look at it and say you have a certain budget because you may have to provide additional content to keep people interested."
This longer-term commitment highlights a structural mismatch that is a major hindrance to digital advance, Bailie says: "Clients know what they want to buy, but they are not structured to buy it and agencies are not structured to produce it. Between us, we are cocking it up."
Of course, not all brands are in Nike's position to host a conversation with customers. Who would want to have a relationship with a laundry product, for instance? Norris says this is why FMCG companies such Procter & Gamble are creating online stores: "It's about the data. Tesco has an own brand for everything, so the challenge is to connect with the consumer."
Clients may be seduced by the idea of an ongoing dialogue with consumers but, in the real world, Al-Zaidy says, many still work to a schedule that is driven by a supply chain: "There's a timeline and a deliverable and you have to peak at a certain time. Different businesses have different structures."
In this environment, it is even tougher for those agencies that do not have a place at the strategy stage. Advertising agencies still rule the roost, leaving digital input as an afterthought. TV production is a linear process and there are few windows to input, he says.
If this is the case, there is a simple answer, Giusti says - come and work for a traditional advertising agency: "Eighty per cent of most agencies are about fulfilling rather than earning revenue. They are production companies with some bright people on top. They should dissolve, go to a classic ad agency and there would be a renaissance of production and advertising. Agencies have to stick to what they are good at."
As the founder and managing director of a business at the "plumbing" end of the line, Ivan Skoric of TSL Digital says he is happy to accept this division of labour. On a day-to-day basis, it's about delivering on time and where that is so, creative and production can happily coexist: "It releases some of the pressure on agencies and allows them to grow with the client. It can be boom or bust with digital, but there needs to be a robust platform if all of this is to happen."
Howard Scott, the digital marketing director of the Cardiff-based Sequence, makes the point that creativity in digital is as much about application as artwork: "It isn't just about the idea. There is too much involved in putting together a campaign for ideas to be the sole domain of guys who used to make films. You can have them coming up with ideas, but they are often not grounded."
A conciliatory tone is struck by Matt Dyke, a founding partner of AnalogFolk, who points out that a collaborative approach produces a whole greater than the sum of the parts: "Nothing works if you haven't heard of it, so advertising is necessary." If his agency is working with others, "we focus on the experience and the ad and PR agencies bring as many people to it as possible. It's about how you fuse them together."
Of course, agencies are now just one part of the picture in the digital sphere. Giants such as Google and Facebook play a growing and competing role, and a Doomsday scenario could see brands going direct to them. In fact, it's already happening, Norris says: "Pepsi is working with Microsoft for its creative for the World Cup. The fact is that it's more sexy to have the Facebook guy in a meeting than the old agency guy - they get data. Facebook is changing the digital display model in front of our eyes."
Agencies need to stay on top of technology, Temple agrees, but he says it is important to avoid being led by it: "Clients tell us that they are not hearing ideas but that they should be on Facebook or Twitter. It's around the media and the mechanic rather than the idea. You can roll out in certain channels but you have to get the idea first."
With WPP now earning more from data than from traditional sectors, the tides are favourable for digital, whatever shape it takes, Shaun Gregory, the managing director of O2 Media, says: "We describe ourselves as a personalised media business, not a telco. The most exciting thing in the next two years is data. It is the next evolution for online."
There is broad agreement on the growing importance of data, although its use would be different depending on the brand. Brooks debates the level of one-to-one loyalty a fizzy drink could expect, while Bailie points out that brands need elements of both micro and macro communication.
Emma de la Fosse, the creative director at OgilvyOne, says data is a way to get a bigger picture, not necessarily to drill down: "It gives insight that we can use for big ideas that motivate, energise and inspire."
With Nielsen partnering with Facebook (Nielsen Brand Lift) on advertising effectiveness, there is now a potential link from click to checkout. Gregory says O2 is similarly harnessing the opted-in data of its 20 million-plus customers to build a media business: "We are able to signpost customers to the apps they're really interested in, based on their profile and behaviour. We can drive app downloads, such as Nigella Lawson, and provide the customer with a great experience. We can build apps, deploy them, signpost customers to them and ultimately report back for the brands."
In a changing business environment, the ability to close the loop like this is a big tick for digital. With the Conservatives looking to change COI budgets to focus on effectiveness, the time is right for all marketers to get more measurable, Norris says: "It could be a massive change. P&G wants to pay publishers based on engagement rather than a CPM model. Working out what engagement means is the new challenge."
When it comes to evaluating the role of digital in some of the most important campaigns of this year - those of the political parties - there was a feeling that an opportunity had been missed. But although Barack Obama's use of the internet to raise funds has been highlighted, it was pointed out that the money was spent on old media - a 30-minute infomercial.
There was a feeling that UK political parties were a bit naive in not understanding that they couldn't control the message. Witness the mischief with doctored Tory posters and hacked Twitter accounts. "It's like Dad dancing," Norris says. "Most people do not want to talk to David Cameron on Facebook."
So it seems that it wasn't digital "wot won it" this time. But who knows what learnings the parties may need in a few months' time? Because, if one thing was clear from this roundtable: if a week is a long time in politics, it is a lifetime in digital.