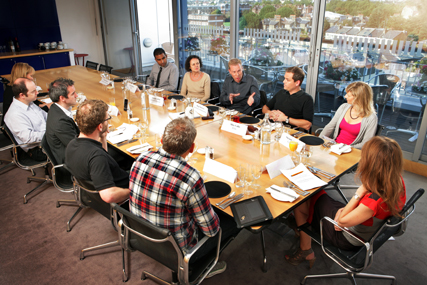 Around the table
Clockwise from top left
- Noelle McElhatton, editor (creative solutions), Campaign
- Devin Parmar, account manager, Campaign
- Amanda Arthur, data planning director, EHS 4D Discovery
- Hugh Burrows, planning director, Que Pasa Communications
- Mike Cullis, managing partner, Elvis
- Suzanne Bidlake, associate editor (reports), Campaign
- Claire Beale, editor, Campaign
- Rik Haslam, group creative architect, Rapp
- Jeremy Garner, creative director, Weapon7
- James Middlehurst, managing partner, MBA
- Stuart Derrick, journalist, Campaign
Not pictured: Ade Adefala, account manager, Campaign
Read the intro - Suzanne Bidlake, Campaign
How to Measure True Engagement - Ol Janus, EHS 4D Discovery
The Dawn of Engagenomics - Mike Cullis, Elvis
A New Vision - Prof. Derek Holder, IDM
We Want Action - Paul Munce, James Middlehurst, MBA
Content is King - Hugh Burrows, Que Pasa Communications
Beyond Distraction - Jeremy Garner, Mark Brown, Weapon7
Rules of Engagement - Roundtable discussion
By Stuart Derrick
Changes in the pace and place of consumer-brand interaction has forced direct marketers to rethink their offering
If there was one word that was banded about repeatedly at the latest Campaign roundtable, it was "outdated". The object of the description was the noble discipline of direct marketing, and the judgment was being delivered by direct agencies seeking to redefine their space in a rapidly changing world.
It is not that the idea of a direct approach is outmoded, participants said. Far from it. But rather that the pace and place of consumer-brand interactions is changing so quickly that the focus is now on consumer engagement. So, what did it mean for the positioning of direct marketing, the Campaign editor, Claire Beale, asked.
Rik Haslam, the group creative architect at Rapp, said the agency had not used the term direct marketing for 24 months in conversations with clients. It was an unlikely announcement coming from an agency that would once have been considered the epitome of DM. However, he added: "We get ourselves in a muddle with definitions, but it's meaningless to the consumer. All communication is meant to be engaging and consumers only engage in an interaction if it is worthwhile."
James Middlehurst, a managing partner at MBA, agreed that DM had old-fashioned connotations: "Maybe it could be rebranded as engagement or as brand action. We still pitch for traditional DM briefs, but we are getting them through inertia. Often, clients do not want DM anyway but want us to come back with a bigger solution."
Professor Derek Holder, the managing director of the Institute of Direct Marketing, who couldn't make the lunch, was surprisingly unconcerned about calls for a name change: "I've spent more than 20 years thinking of what else it could be called, but each of the alternatives become rapidly redundant. People know what direct marketing stands for."
What it means, however, has broadened so much that engagement better summed up what agencies and brands were trying to do, Mike Cullis, a managing partner at Elvis, said: "There are more channels to respond through. We have done experiential activity for Sailor Jerry at festivals and that is not traditional direct marketing, but it has enabled follow-up."
While the media context was changing, the fundamental challenge remained the same, Jeremy Garner, the creative director at Weapon7, argued: "How do you get people to spend time with your brand and sustain and build on their interest? That's engagement."
Whatever engagement means, there is no doubt that it has value, Cullis, referring to a report by the market researcher Hall & Partners, which claimed that two-thirds of a brand's profits came from engaged customers, said: "We have traditionally looked at lifetime value, but engagement goes much further if you can measure it."
Measurement was, of course, a key to successful relationship marketing, and was now an even greater part of a marketer's toolbox. "There is an ongoing data stream being thrown out these days. Even anonymous browser data ends up being attributed to an individual," Cullis said.
But if marketers are awash with data, distinct skills are still needed to dissect what it means, Amanda Arthur, the EHS 4D Discovery data planning director, said: "You have to be able to measure your data and relate it back to individual consumers. Brands might start with an engagement strategy and not think about measurement until the end."
A big question is whether direct marketing agencies can still lay claim to data as their domain. Abbott Mead Vickers BBDO recently picked up the Direct Agency of the Year award at Cannes. Is this an indication of the diminishing importance of sector specialisation in marketing?
Hugh Burrows, the planning director at the branded content agency Que Pasa Communications, said the lines are increasingly blurred: "I have no experience in direct marketing, but we capture data off the back of engagement. However, we would not respond to a traditional DM brief."
Middlehurst said that brands didn't want agencies getting bogged down in lifetime values and five-year ROIs. Rather, they wanted them to come up with creative solutions and then work out how they were going to measure them - perhaps for the first time.
"Briefs are traditional, but solutions are not," he said. "The emphasis is on us to go back to clients and say how we think a problem should be solved. It's no longer a linear process - it's a multi-channel world where a number of different actions are called for."
Each campaign now presents its own tracking challenge with unique KPIs and econometrics, Burrows said: "You end up with a complex, composite solution of website traffic, downloads, video streams and other stuff around virals and social media. We can weight things according to the channel importance, but it's an amalgam."
On some levels, this need for new thinking is leading to brands being less inclined to pigeonhole agencies' capabilities. "Global clients want a discipline-neutral solution from the off," Haslam said. "We will come across AMV, Razorfish, TMW and maybe even a small content agency in pitches. The client does not know who will deliver the best solution."
Such fluidity is also opening the door to new collaborations, Burrows said: "We have worked with Starcom Media recently on a brief that involved taking an established brand icon into the digital age. There is recognition of the need to go beyond two bursts of TV."
Roundtable participants felt that media companies were playing a greater role in shaping the engagement agenda. No longer the bulk buyers of old, they now have a compelling mix of discipline understanding and capability that gives them greater credibility as the curators of ideas that require the mixing of disparate talents.
Agencies were also changing their DNA to compete, Haslam said. He pointed to a race between above-the-line and traditional direct agencies to come up with the complete client package. Noticeably in the US, ad agencies are bulking up on digital and data competency, whereas direct and digital are trying to improve their creative offering. "Can ad agencies get data before we get creativity?" he asked. "We have been weak in this area. It's an enormous challenge for us to up our game."
For Burrows, it was important that agencies had a credible mix of talent in-house: "We have journalists to help with social media, video production specialists and mobile talent. If you are trying to use content as a starting point to engage, you need the tools."
The demands of campaigning in a digital age are producing strange bedfellows in agency teams, according to Garner: "The nature of the work is so diverse that you could mix a Wii designer, a PR person, a social network planner and an offline designer, and see what happens."
With so many talents and channels at their disposal, Beale wondered if DM creatives looked down slightly on briefs for the humble mailer. But Haslam said there was still pride in the craft aspect of DM: "It's tangible. Digital disappears into the ether. Traditional skills have not been left behind."
Meanwhile, the IDM, the repository of best practice in DM, doesn't want to be left behind either. "You need to have a lot of skillsets to be a marketer of the future," Holder said. "We take a broader view than we used to have and our courses are now catering for multichannel, onand offline marketing."
Holder's view is that the fundamental principles of direct marketing remain relevant despite the fact that the speed of interaction has increased massively. Indeed, digital media promises a level of personalisation way beyond changing a paragraph in a laser-printed letter, Haslam said: "If you were booking a hotel, there could be an RSS feed with the weather delivering added value." You could also serve up a list of gigs in the area based on the bands you know from social media that a person liked, he suggested.
The rise of social media is also shaping the way communications are handled, he said: "We used to deal with marketing departments, now it's the corporate communications department. It's great because they get quick approval and they trust you."
Garner said that there was a challenge with all of this potential to know when not to react and stand back: "You need to leave room for conversations to take their own path and you need the client's trust to do that." Cullis suggested that, in future, clients may want to own such conversations themselves, locking agencies out.
The problems of failing to engage effectively with consumers was seen earlier this year when Nestle stirred up a hornet's nest by responding aggressively to comments on its Kit Kat Facebook page. Haslam said the two-way nature of communications meant that brands had to live up to their values or face a viral backlash: "We can find ourselves telling clients: 'You can't say that as people won't believe you.' It's a hard conversation to have."
The growing importance of reputation management in the social space was leading both MBA and Que Pasa to explore building PR into their offering in some way.
The question of what engages was felt to be of increasing importance, because with so many channels, the claim on the call to action was hard to make.
With clients looking at payment by results, these discussions are vital. "There are so many ways to respond," Middlehurst said. "For our work for Everest, we did the econometrics to show that TV advertising was driving people to the website and Google. If we hadn't, it would have been wrongly attributed to pay-per-click."
Google is working with TV companies to discover the optimum time to upweight your PPC. This was the natural domain of direct marketers, Haslam argued.
People's changing media consumptions meant agencies were having to think more creatively, Cullis said. Virgin Media created its Sofa Stadium virtual stadium as a way of recognising that people watch TV using their laptops and of breaking into the primary relationship that fans have with Sky.
Burrows said that social TV would make engagement even more complex as it opened up to allow further interactive overlays.
Another challenge in engaging customers was the emergence of platforms such as iTunes and Facebook that held all the data on customers.
Cullis likened it to brands' situation in relation to Tesco Clubcard.
Rather than argue about whose data it was, Middlehurst said there were times when it might be wise for brands to hold back on demonstrating the amount they knew about customers as it made them nervous. The arrival of location technology such as Foursquare could lay brands open to further accusations of overstepping the mark. An upside to all these challenges is that engaged consumers are creating more loyal clients, he added: "Clients are buying richer agencies that can do more. It binds them to each other."
Data does encourage loyalty, Arthur said, although sometimes more through inertia than anything: "We have clients of more than 20 years.
Taking a database in-house has proved so disruptive that it hasn't happened. For some, we manage the database and the strategy and they can decouple the strategy if we don't deliver."
With the deluge of data, there was a real danger that brands could miss the point of it all, she added: "There is a difference between data and knowledge and it often doesn't get to that point."
As direct agencies have changed, so they have hit a purple patch in recruiting talent. With the rise of digital, ad agencies are no longer the first preference for new recruits. "Large agencies do not have enough respect for the diversity of talent," Haslam said. "We are more welcoming and embracing of digital and direct skills, and anybody under 30 is only interested in digital. At the moment, we are finding it easy to recruit exceptional talent. That would not have been the case four years ago."
For agencies looking for evidence that they were adapting to a new marketing paradigm, this is a cause for celebration in itself.
(From Campaign's "What Next in Engagement" supplement, October 2010)