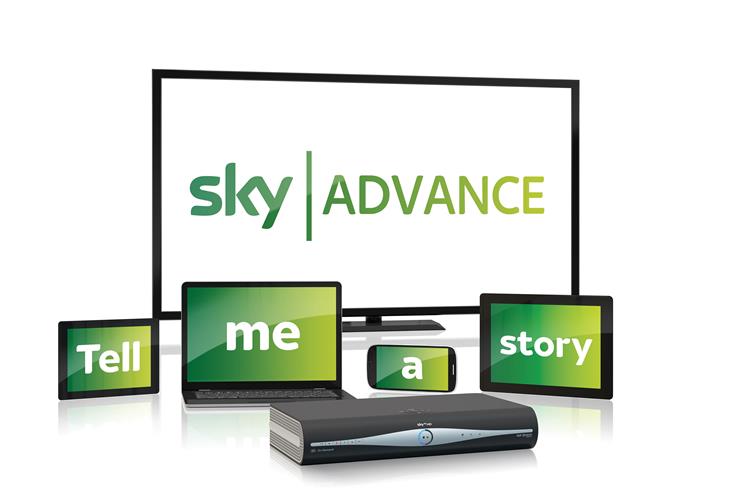 Advertising is a form of storytelling, delivered through meticulously sequenced campaigns on screens, posters, newspapers and other media.
People love stories, which is one reason why people are fonder of advertising (particularly TV) than logic would suggest. It is a common conversational topic at work, school and online, with debates deciding such issues as which retailer has nailed the festive-TV-ad bragging rights.
But while campaigns have always been integrated in conception, their execution has been more fragmented. For instance, the option to structurally integrate exposure across TV and online just hasn't been available, whether due to separate sales teams or buying departments, or incom-patible currencies or measurement.
Sky AdVance takes a significant step forward, by empowering advertisers to connect journeys across screens so that audiences see the right ad, at the right time, in the right sequence and on the right screen.
This is possible because Sky is a broadcaster in the unique position of having customers, not just 'viewers'. Sky's understanding of viewing behaviour, combined with multiplatform and device data, means that advertisers can address the most relevant and interested audiences via whichever screens they are using, without encroaching upon viewer privacy or harming the overall viewing experience.
Sky AdVance allows TV to digital and vice versa, connecting content, context and creative. It's the huge scale that makes this a game-changing development.
The bigger picture: 3m-households panel
At the heart of Sky AdVance is data. The Sky Viewing Panel produces anonymised granular viewing data from nearly 3m households. This massive scale allows insights from the Sky platform covering more than 500 TV channels, providing programme, spot and sponsorship viewing as well as recency and frequency data.
This combined TV, online and mobile knowledge opens the doors to advanced cross-platform under-standing and delivery.
Sky AdVance is the only multiplatform solution with TV data at scale, giving it wide-ranging applications, which include:
- Extending the reach of your TV spot campaign to those you know haven't seen it, via VOD, display and mobile – whether using Sky's platforms, or the wider web via demand-side platforms.
- Complementing a TV campaign with a reinforcing message online to exposed TV viewers – even segmenting delivery by frequency or recency of exposure (for example, only those who have seen it five times, or within the past five days).
- Amplifying sponsorship cam-paigns by engaging viewing of specific show/idents with VOD or display ads.
- Delivering a digital campaign to viewers of a particular show, group of shows or genre (for example, those who watch baking/food pro-grammes, movie fans, Game of Thrones viewers).
- Using your own customer data to reach them across all their screens – like Sky AdSmart.
Creatively, Sky AdVance opens up exciting possibilities too – by allowing sequential and consequential tar-geting, you can ensure creative is seen in the order you intended, delivered with maximum impact.
The beauty of this integrated understanding is that what's good
for advertisers is good for viewers, too. Viewers get to see more relevant advertising, in meaningful sequences, while remaining anonymous and unidentifiable. No personal data (PII) is ever transferred, so everyone is anonymous and a minimum targeting group is set at 5000 homes.
It's exciting to see a development that allows these great concepts and ideas to be delivered – but more importantly, agencies and brands are saying they can't wait to harness the combined power of our TV and digital understanding.
---
Jamie is deputy managing director of Sky Media. He has more than 20 years of TV and online commercial experience, with previous roles at NBC Universal, Channel 5 and Viacom Brand Solutions. Jamie recently oversaw the hugely successful development and launch of Sky AdSmart.