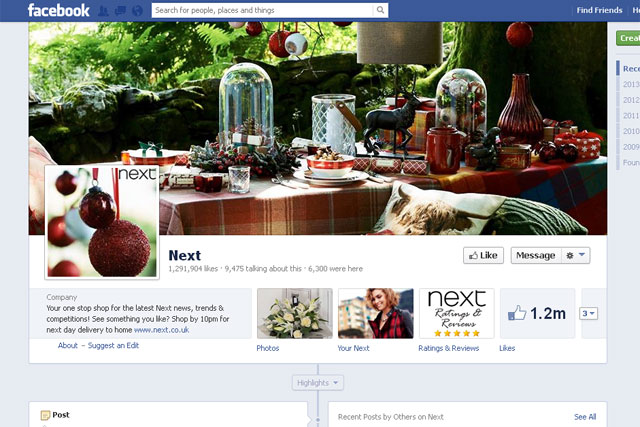 New research from IMGROUP examined the social footprint of 10 top UK high street retailers across Facebook, Twitter, Pinterest and Google+, while measuring response rate and response time and the number of followers for each platform.
Next performed best out of the group, followed by Argos, with Marks & Spencer landing third place.
All the retailers in the report have a Facebook presence to provide customer service, complaint handling or to engage with the audience in some way.
John Lewis and Homebase secured the fourth and fifth spots, and all retailers have open Facebook pages where consumers can ask questions, apart from Ikea, which came eighth in the study overall.
Next scored highest on average Facebook response rate with 92% and an average response time of 28 minutes, while Argos and Boots came second and third for this platform.
Seven out of the 10 retailers have a dedicated Twitter account for online customer service, including Argos, Next, Homebase, John Lewis, Currys PC World and B&Q, while Marks & Spencer and Ikea use their corporate Twitter handles to address customer service issues. Boots and Superdrug, however, do not use Twitter for customer service complaint handling at all.
Marks & Spencer performed the best out of the group for engaging with consumers on Pinterest, followed by Next and John Lewis.
Martin Philpott, head of retail at IMGROUP said: "In the battle to compete with online giants such as Asos and Amazon, bricks and mortar retailers are increasingly harnessing the power of social media as a means to actively engage with their customers, increasingly exploring newer channels like Pinterest.
"The next step for retailers is to make use of the information consumers share on social media sites to achieve a better understanding of behaviour and buying patterns, enabling them to interact with their customers in a much more seamless, targeted and engaging way."