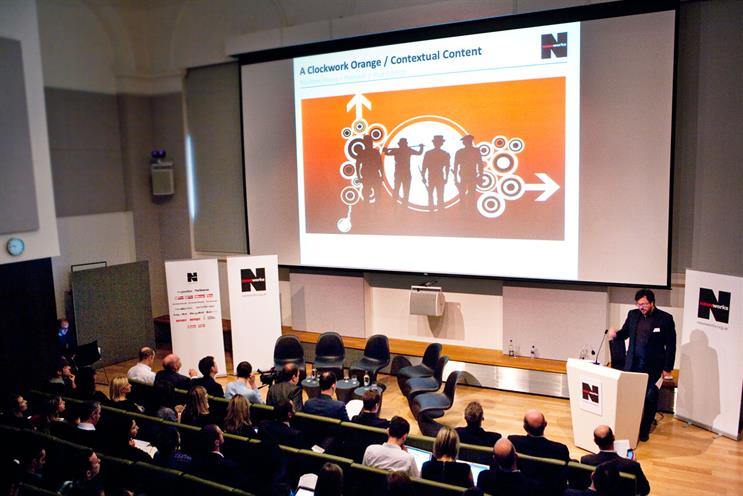 Tablet devices have seen the fastest uptake of consumer technology of all time, with estimates of ownership at around 30 per cent after the recent "Tablet Christmas". With the devices reaching a critical mass of consumers, advertisers, publishers and agencies are looking closely at the implications for marketing.
The packed Newsworks Tablet Summit in November showed the level of interest in the opportunities presented by tablet media, Rufus Olins, the chief executive of Newsworks, said. Tablets change the way consumers consider news and information, but marketers need more guidance.
"A survey of Marketing Society members found the vast majority of them owned and used a tablet, yet only 16 per cent are using them to promote their own brands," he said. "They are unsure what to do and of the scale of the opportunity."
Newsworks' event aimed to start the debate on the effect tablets are having on media and brought together a varied group of experts for a tablet primer. The marketing body for newspapers and newsbrands has also launched its own guide to tablets, which will be continually updated to keep track of changes in this fast-developing sector (visit Newsworks.org.uk to download it).
Andre McGarrigle, the director of audience at Guardian News & Media, explained how the space was changing. In 2012, tablets accounted for 10 per cent of smart devices and 20 per cent of mobile adspend; by 2016, tablets will make up 60 per cent of adspend on smart devices.
"We are moving to a post-PC world where mobile devices will dominate. National newsbrands' audiences are being driven by smart devices and by tablets in particular," he said.
While hard copy sales dwindle, upmarket national newspaper audiences are growing thanks to tablets, which are now a core component of multichannel delivery, McGarrigle said.
With Apple retaining dominance in the tablet market, it is important for advertisers, publishers and agencies to back a long-term winner, Zach Leonard, the managing director of digital at The Independent and the London Evening Standard, said. Different business models, operating systems and market penetration have to be considered, but it is no longer a one-horse race, he said.
"Size and price matter in this market. Apple has refreshed the iPad and brought out the premium-priced iPad Mini," he noted. "It is still well ahead, but things are changing."
Looking ahead, the industry needs common standards in such areas as audience and usage metrics, as well as ad units and rates, he added.
Creatively, advertisers are getting to grips with the opportunities presented by tablets. Paul Kemp-Robertson, the editorial director and co-founder of the marketing trends magazine Contagious, introduced the term "meerkatting" to describe the grip tablets exert on users, who only look up when there is an external stimulus.
"It's a different psychological state. Users are reading more, video usage has grown by 90 per cent in the US in the past six months and 71 per cent of users are watching videos that are ten minutes or longer," he said. "They are not 'snacking' on content, but are engaged for a long time."
Engagement is best fostered through simplicity. Kemp-Robertson pointed to an initiative from Nicholas Negroponte's charity One Laptop Per Child, which left boxed tablets in two Ethiopian villages. Within five days, illiterate children were using 47 apps per day; within two weeks, they were singing ABC songs; within five months, they had hacked Android and enabled the previously disabled cameras.
In advertising, the mobile future is demonstrated by GQ making a recent issue "live" through Aurasma-enabled pages. The Times has also experimented with similar augmented reality-inspired pages to engage readers and bring content to life.
"It's no longer a gimmick," Kemp-Robertson pointed out.
THE DEBATE
At the event, Torin Douglas, the media correspondent at BBC News, chaired a debate on where tablets are taking publishers and advertising. He asked: how do you accommodate both tablets and the physical paper?
Abba Newbery, director of advertising strategy, News International: We are agnostic, so you can read the paper on a Monday and the tablet on a Tuesday, and we'll package it for you. Figures show a growing newspaper audience because we are reducing reliance on trade distribution methods and giving more people the opportunity to enjoy our content.
Ian Dowds, managing director, digital media, Trinity Mirror Group: We look to produce great content and put it wherever people plan to see it. Tablets are a completely different audience and there is little cannibalisation. It's an opportunity to grow rather than a challenge.
Simon Richings, executive creative director, Tribal DDB: Tablet ads are currently treated as "print-plus", where you just bring a print ad to life. You can do so much more than that.
Andrew Warner, senior marketing director, Expedia: It's still only 11 per cent of the population, although tablets are a very upmarket audience. We are a high purchase value brand, so have to consider where people will spend £2,000 on a holiday. Within digital, there's a blurring of the lines in terms of what's broadcast content, what's news, what's social and what's advertiser-originated. We will play them off against each other.
Guy Zitter, group managing director, Mail Newspapers: Our strategy is clear. Mail Online is a popular newsbrand and it's global. The paper is middle market and it's the UK. The tablet product, Mail Plus, is for the UK and upmarket in presentation. The audience will be more upmarket and younger, and we will charge for the tablet.
TD: What distinguishes tablets from other devices such as mobile and connected TV?
AN: It's not about the device, but how you choose to publish content. We choose a linear model and see a similar readership to print. People take their print behaviour into tablets.
ID: We do look at it by device and content needs to be presented in a way that's friendly for each device. The tablet audience is a more engaged audience overall and you need to tailor content to fit.
By 2016, tablets will make up 60 per cent of adspend on smart devices
AW: Devices do make a difference. If people browse for a hotel on a PC, then there is a higher purchase value. If they are on their mobile, it may be because they have missed their last train and it's a one-person, short-term booking. Tablets lie somewhere in the middle. We are working with media owners to try to bring together an audience with the right content that demonstrates the Expedia difference. In digital companies, every time there's a new technology, they just add another column on the spreadsheet and agencies open a new division to sell you something. That leads to fragmentation and, as an advertiser, we are looking for simplicity. Newsbrands can leverage their heritage and content to help advertisers through the media cocktail mix.
SR: Tablets tend to get grouped with mobiles, but the user behaviour is different. You don't need a new expert. It's more like advertising on the web or content partnerships than simple mobile ads. If you are researching a purchase on the desktop, the average time is a month. On a mobile, it's an hour. Tablets are nearer the desktop.
AN: Media agencies have divided themselves by the media you buy. In the digital world, there's no digital media per se, because you can watch TV, read your magazine or listen to the radio digitally. Tablet should be driven by the content consumed, taking those content behaviours into the way you create advertising.
ID: You sell it in the manner that it's bought. This could be the first step of a print product into digital. Print has probably been the most siloed of media until now.
GZ: The only way to approach tablet advertising sales is to give the client what they want, whether as part of a cross-platform sell or tablet only. We have to make it as easy as possible. We have a team that does solutions across a range of brand and platforms. At the moment, the tablet is print-driven because the numbers are still relatively small.
SR: Some clients, such as automotive brands, want the deeper, richer tablet experience, but it involves extra investment. Agencies have a role to play in helping them understand when that investment is worthwhile.
FROM THE FLOOR
Greg Grimmer, HMDG: Tablets are still very small and I'm not sure how the e-commerce revenue that has driven digital for the past ten years will transfer to tablet. Creative solutions departments within newsbrands will be the biggest drivers of tablet advertising. It could be creative solutions departments direct to the client.
ID: E-commerce won't drive this – it's commoditised and leads to a race to the last click. We need to sell the value of the creative possibilities and show the value in terms of brand-building and engagement versus the click.
AW: The suggestion that e-commerce is commoditised is old-fashioned. Those who do that aren't winning. Expedia and Amazon outsell the analogue competitors because they have better data and service. About 10 per cent of our transactions are coming through a mobile device. We think it's about 20 per cent transacting after having some relationship with a mobile device and 35 per cent who have used one at some point in the experience. In Germany, where we sell more beach holidays, we target tablet with inspirational beach and news content and showing our expertise. It's decommoditising the brand.
TD: A Twitter question: how do media owners make money from tablets and will it offset declining print revenue?
ID: We are still talking about tablets in a print way. I want to know at what scale does it become viable to talk different metrics, such as engagement.
GZ: We will sell subscriptions, run advertising through from print and we will sell unique solutions that add to the value in the app. It's a very valuable audience. It won't be a problem monetising the tablet. It will more than replace lost print revenue. We won't bundle the subscription as a single sale. You will buy one or the other.
TD: What about paywalls? Is this a flexible version?
GZ: It's two different strategies. The reach of the newsbrand is growing – the Mail Online reach has gone berserk, although it's not generating as much as it was in print. It could be profitable now, but we are expanding and investing heavily. It's not a paywall but, in tablet, you must subscribe. It's consumer choice.
AN: There are two different digital philosophies coming together. The web world was based on a free model. The app world and tablets are not consumed in the same way.
Nathan Medford, Condé Nast Digital: What effect will new responsive websites have as they allow you to get the same information on a tablet for free?
GZ: With Mail Plus, our approach is to offer more and extra content providing more value. We have to provide that to justify the price. We will watch the competition. There are no rules.
AW: There is a value for all things, but some aggregator websites are not necessarily a quality environment for premium products. Brands like the Mail and Trader Media Group that are creating new tablet products offer more targeted options for advertisers, and that can only be a good thing.
ID: The content of each defines it rather than the format. The format of the browser may become more like an e-edition, but the content in the e-edition will be more analysis and depth and the browser will be snacking.
Tablets should be driven by the content consumed, taking those content behaviours into the way you create advertising
Mike Yershon, Media Assessment: Tablets will be the most revolutionary thing to affect the communication business in the next 20 years. But charging for tablet content will help to create a new way of trading. It needs to shift from eyeballs to something different like cost per action, because it can be tracked.
AN: I totally agree there is the need for a new trading model, but I hope it's not CPA because it underestimates the role that newsbrands play in the marketing mix.
ID: At the moment, the tablet audience is upmarket and affluent, but you have to also consider what it will be like in five years' time, when there will be a democratisation of the opportunity and greater scale.
AW: CPA has value to advertisers, but it would undersell the media as a lot of stuff in tablet will be post-click. It will be good for advertisers, but less good for media.
GZ: The potential problem of going down the CPA route is that the value of this content, which is expensive to produce, will collapse, so we won't sell on CPA. In the digital market, there's infinite supply and no barrier to entry. You have to cave when an advertiser says they will only pay so much. I'm interested to see what happens with tablets, but I will be looking to charge for it.
For more coverage and video from the summit, visit campaignlive.co.uk/go/newsworks