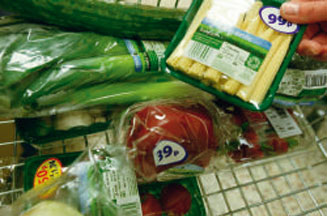 Peter Kendall made the plea last week at grocery group IGD's annual convention.
He criticised retailers for confusing consumers with on-pack carbon labelling.
Kendall said the industry should agree on a single label to ensure that retailers do not gain a competitive advantage by confusing customers.
'We need to take time over carbon labelling and come up with a system that works for everyone,' he added.
Tesco, which recently unveiled plans to display the 'carbon footprint' on the packaging of 500 products by February 2010, said it supports the calls for a consistent approach.
It already carries on-pack carbon labelling on a handful of products, including its own-label orange juice, milk, potatoes, detergents and light bulbs.
The information relates to the CO2 emitted in the making and transportation of a product.
Tesco climate change manager Chloe Meacher said the supermarket's own research showed that 54% of shoppers currently intend to seek out 'lower-carbon' products, compared with 35% in 2008.
In his speech, Kendall also said the industry should avoid scaremongering tactics in the communication of messages related to genetically modified (GM) food.
He explained that consumers should be educated about the benefits of GM foods, rather than simply presented with the arguments propagated by anti-GM campaigners.
Other speakers at the IGD convention, entitled Leadership in Adversity, included Tesco chief executive Sir Terry Leahy and Lord Coe, chairman of the London 2012 Organising Committee of the Olympic and Paralympic Games.