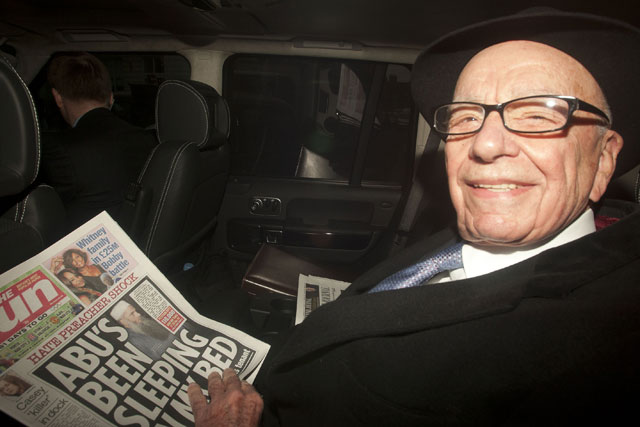 NI launched advertising spots during ITV's live coverage of the Brit Awards on Tuesday night.
More substantial TV advertising, created by a WPP team, is expected to break this weekend. WPP agencies are involved in an ongoing review of NI's agency arrangements.
Other marketing activity this week includes plugs in The Sun's weekday editions, as well as an outdoor campaign across CBS Outdoor's digital network using the tag­line: "In Britain The Sun comes out every day."
The launch of the Sunday edition was confirmed on the Sun website on the evening of 19 February. This came after the owner Rupert Murdoch's comments last week that the Sunday title would launch "very soon".
NI's commercial team held urgent meetings with agency heads of press in the hope that key advertisers would commit spend to the launch.
Group M clients such as Ford, Nike and Morrisons are expected to feature in the launch issue alongside other advertisers such as Tesco, which is a client of Initiative.
It is understood that NI has offered agencies a "buy three, get one free" deal on ad pages. The paper has been touted to press buyers as a family friendly version of The Sun.
The first issue, with a coverprice of 50p (expected to rise to £1 in future weeks), will have a print run of three million in a bid to claw back the 2.7 million readers of News of the World.
While many agency heads talked up the launch, one media company source said: "It doesn't have the same excitement as other launches such as Metro or London Lite. There's still an investigation going on and clients are understandably cautious."
INDUSTRY VIEWS
Marc Mendoza, chief executive, MPG Media Contacts: "There's a lot of latent demand for the return to the audiences that News of the World gave and advertisers should welcome it with open arms, as it gives them an opportunity to get their ad in front of millions of people who aren't currently buying a Sunday newspaper. The way News International is billing it is it's very much a Sun on Sunday and not a News of the World II. If I was The Mirror or The Mail, I would be very concerned – the benefits that opened up as part of News of the World's closure could evaporate very quickly."
Alex Altman, chief executive, Initiative: "Clients are excited and agencies are too. Any new media launch is an opportunity to reach people in a new and exciting way. I think it's a good reflection on the state of the newspaper market that News International has the confidence that it can sustain the product. Once the initial interest has died down in a couple of weeks, The Sun on Sunday will be judged the same as every other media opportunity – on its ability to engage an audience."