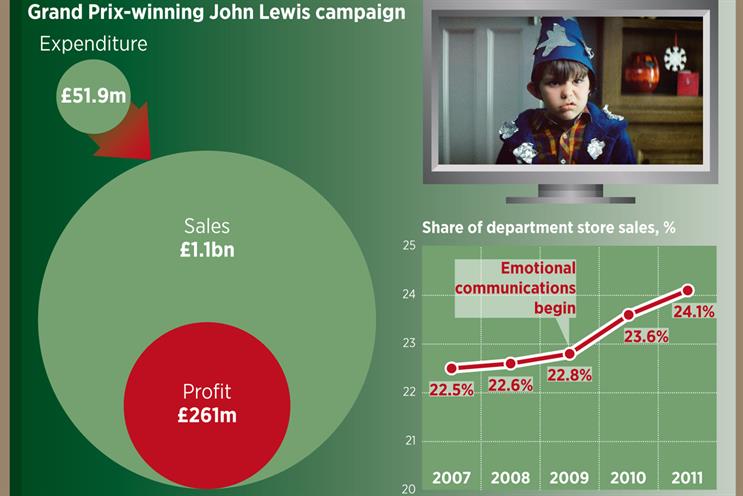 Advertising Works 21 has just been published. For 32 years, it has been the global benchmark for communications effectiveness. Arguably, its relevance is even greater today because of the growing acknowledgement that data is one of the key commercial battlegrounds of our time – but also that marketers and agencies are struggling to demonstrate their accountability.
A recent survey by IBM found that 40 per cent of global chief marketing officers believed "big data" was their biggest challenge, but 71 per cent felt ill-equipped to deal with it. Another study (by the Chartered Institute of Marketing) found that only 15 per cent of chief financial officers believed their marketing colleagues paid enough attention to financial outcomes.
In this context, Advertising Works 21 (and the IPA Databank behind it) should be a gold mine of information. As ever, there are useful nuggets of all shapes and sizes. But, this year, I would say two big themes stand out.


Effectiveness is now for everyone, everywhere
When the IPA Effectiveness Awards first launched, they were only open to British advertisers and attracted a preponderance of big FMCG campaigns. This year's crop spans a huge range of product categories, from the public sector (road safety, anti-smoking, knife crime and digital switchover) through retail (John Lewis, Aldi and Waitrose) to business-to-business (IBM and Virgin Atlantic).
Winners included global giants such as Unilever, but also national institutions such as British Gas and smaller organisations such as the Art Fund. Perhaps most tellingly, the papers came from all over the world (from India to Brazil, Singapore to Spain, Germany to the US). The lesson is clear: marketing effectiveness is now a global imperative for all organisations of all shapes and sizes. As one paper from Ogilvy & Mather Shanghai put it: "The days of putting something in the market and hoping it will sell are arguably over… [even] in China."
Effectiveness is now a mindset
As this imperative has gained force, our understanding has accelerated like never before. Of course, there are still many gaps in our knowledge, but recent years have seen huge advances in the way we measure integrated campaigns, global activity, digital ideas and brand value.


This year's papers provide learnings on everything from behavioural economics (eg. the Department for Transport) to social media (eg. the Metropolitan Police), from econometric modelling (eg. McDonald's) to retention (eg. Boots). However, the bigger shift has been the general development of effectiveness as a learning mindset among successful advertisers. Several papers (eg. for Which? (pictured right) and The National Lottery) make the point that their success was due to an ongoing process of testing and learning, not a one-off flash of brilliance.
So, as you read Advertising Works 21 (as I hope you will), please don't see it as a collection of retrospective papers simply written to win awards. View it as an inspiring set of learnings, which might be applied to your own organisation – because effectiveness affects all of us and is evolving all the time. By making it part of your organisation's mindset, you will hopefully write the next chapter. See you in Advertising Works 22.
Andy Nairn is a planner