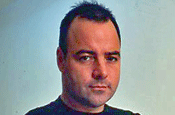 Bell, who is still in final talks with the agency, will work on a number of its global and pan-European accounts, based at its London office.
He will report to Michael Bray, the president of DDB Europe, and Bob Scarpelli, the chairman and chief creative officer of DDB Worldwide in New York.
A start date has yet to be agreed, but Bell is expected to join the agency within the next couple of months.
The move will see DDB London's creative responsibilities shared between Bell and Jeremy Craigen, the executive creative director.
Craigen will be responsible for the bulk of DDB's UK business, which includes Harvey Nichols, Volkswagen and the Financial Times. Bell will work on a number of DDB's pan-European and global accounts, which include Unilever, Kraft and Star Alliance.
The appointment marks Bell's return to a network agency after he was ousted from JWT in January last year following a year of account losses at the agency.
The decision to remove Bell came as a surprise to many. Despite losing the Vodafone and Reckitt Benckiser accounts, JWT had improved its showing at awards cere-monies and was the seventh most-awarded agency in the 2006 Gunn Report.
Before JWT, Bell worked at Leo Burnett, where he produced award-winning work on accounts including McDonald's and Heinz.
Bray said: "We're always looking for high-quality talent to maintain our position as one of the strongest global creative agencies. Talking to a talent like Bell is part of our intention to stay that way."