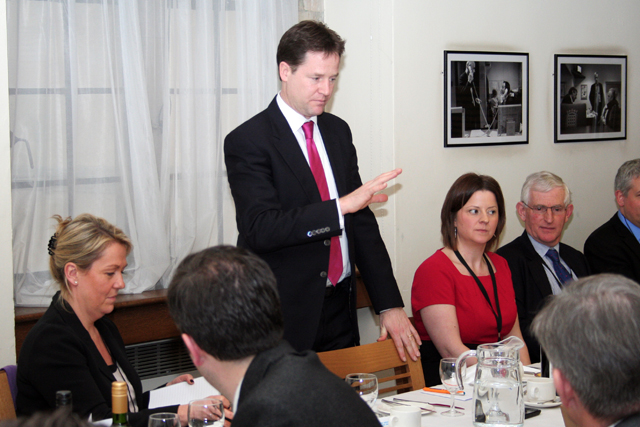 Speaking at the Newspaper Conference annual lunch yesterday (25 January), the coalition leader said the high-levels of trust readers have in local newspapers were "the envy of many other parts of the media".
On the coalition's plans to devolve power from central Government to the regions, Clegg said he hoped that regional papers would make sure "we hear the voice of the regions".
He added: "I think you are much better placed to connect the national with the regional, the Westminster to the town hall, than many other media are, and in a way that goes with the grain of what people want from their newspaper these days."
Clegg told the audience of regional press political editors and publishers that in age of globalisation, people had responded by wanting to "grab hold of and hold onto the world that they know best, the world around them, their local area, the village they live in, the city they live, the region they work in".
Clegg also agreed with regional press industry's wish to see the Government moving quickly to "honour our commitment" to rein in council newspapers.
He said: "The underlying strength of your newspapers seems to be growing rather than diminishing. You've got more and more readers, and crucially you have rates of trust in what you produce which is the envy of many other parts of the media.
"How you commercialise that in a world in which commercial advertising revenues are restricted and public advertising revenues have certainly been very severely restricted, I understand, is tricky and I think you're going through a transition period.
"But the basic building blocks of a vibrant and sustainable regional newspaper industry seem to be me to ever firmer than they were in the past."
NS president Georgina Harvey, managing director of Trinity Mirror Regionals, noted the precarious positon the regional press finds itself today, as it battles with "unprecedented change and challenge", without the prop of signficant subscription revenues.
"What I would like to point out is that this highly professional and well-trained force of local journalism is largely funded, as we know regional media is very different to national media, by advertising revenue," she said.
Referring to the continued shift of Government ad spend away from print in favour of digital media, Harvey said she hoped local and central government wouldn't be "tempted to continue to withdraw much-needed advertising pounds out of regional newspapers".
"We are an industry that is navigating very well through extremely choppy economic waters," she said. "I know that we are very resilient and very tough and we are absolutely committed to the communities that we serve.
"I hope that we maintain our close links with you both on a local and a national level."