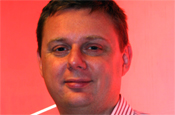 Hoadley will be predominantly responsible for building on the agency's blue chip client base, which currently includes brands such as Allianz, Nestle and P&G.

He will report to G2 EMEA Chairman and Joshua founder Peter Thompson.

Hoadley joined Joshua G2 as head of shopper marketing in May 2007 from the Triangle Group.

His appointment comes soon after the news that chief executive Mike Cornwell had left the agency after less than a year in charge.

Hoadley said: "I am delighted to be coming back to London and to be working with an agency that is at the forefront of developing 360 degree solutions for its clients"

Thompson said: "It is great to have Nick on board, he understands the multi-disciplinary nature of our business and how that can help the challenges facing our clients today."