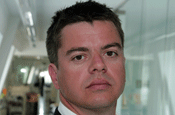 Simons was appointed to the role in September 2006 by his father, Paul Simons, who was the chief executive of CST's parent company Cagney at the time.

Paul Simons left Cagney in June this year to spend some time outside of the industry.

Murray Chick, chairman of Chick Smith Trott, thanked Simons for his work at the agency over the previous two years.

He said: "The redundancy is not a reflection on Nick at all - it was just a case of restructuring, and the role of managing director isn't there anymore."

Nick Simons joined Chick Smith Trott after spending eight years with M&C Saatchi, where he worked on the $100 million global Royal Bank of Scotland account.