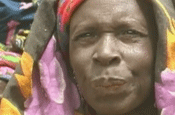 The campaign, created by Leo Burnett and Arc, is for the UN's Development Fund for Women (UNIFEM) and is based around a website, including a 60-second film that will also be seeded as a viral.

The website, www.saynotoviolence.org, contains a virtual book where users can sign their names in support of the movement.

The film begins with the question: What is the main reason for suffering violence? It then shows news footage of conflict, genocide and terror as it flashes up potential answers such as: War? Racism? Extremism? It ends with the line: "Or just being born a woman?"

Nicole Kidman, UNIFEM's goodwill ambassador who helped launch the campaign, said: "Violence against women is an appalling human rights violation. The more names we collect, the stronger our case to make ending violence against women a top priority for governments everywhere. This is why I was the first to sign my name."