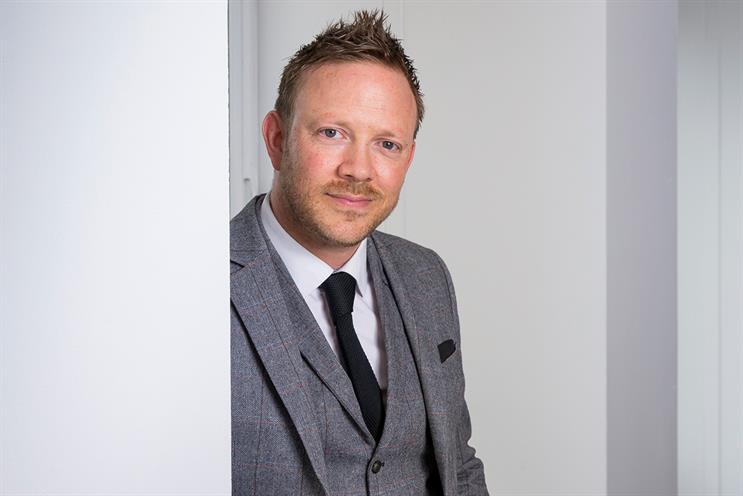 The Lowdown
Age: 43
Lives: Earlsfield, south-west London
Family: Wife, Eve; son, Lucas (two); and daughter due to be born in late September
Favourite media: A lot of news, but always on mobile. Cartoons on TV with my boy. I still have a soft spot for out-of-home but wish more was data-driven and digital
Interests: Rugby and football
Any relation to Jeremy Clarkson? Luckily not. But I am related to Harry and Jamie Redknapp
Nigel Clarkson learnt to cope with change and embrace adventure at a young age. He grew up in an army family that lived at various points in Germany and Hong Kong. He went to a military boarding school in Kent that ended up producing a cohort of future media leaders. And he developed a lifelong penchant for physical challenges, including what he describes as "various idiotic skydives, bungee jumps and paraponting".
Clarkson, who made his name in outdoor as sales and marketing director at Primesight, before moving into digital at LivingSocial and Weve, certainly leapt into his current job with his eyes wide open.
When he began as UK managing director at Yahoo in February, the struggling US parent company was already up for sale. Even now, following Verizon's acquisition of Yahoo for $4.8bn in July, the future remains unclear until the deal is finalised next year.
Clarkson, a normally chatty character, says takeover rules mean he cannot talk about how Yahoo might be integrated with AOL, another fallen internet star, which Verizon acquired last year. The promise is that a merged Yahoo-AOL business could rival Google and Facebook. However, that might require only one UK boss, potentially pitting Clarkson against Stuart Flint, his counterpart at AOL.
Still, life goes on for Yahoo's 280 staff at its sparsely decorated London offices on Shaftesbury Avenue, where Clarkson has made four senior promotions and appointments (all men) since taking charge.
The company claims 34.6 million monthly UK users, including ten million on email and 12 million on social blogging site Tumblr.
But critics complain that Yahoo has a mishmash of ad products that range from its search engine and aggregated news to programmatic exchange BrightRoll and mobile app business Flurry.
"It has lacked a USP," Enders Analysis said in a recent note. "Yahoo's usage is comparatively undirected and unattributable, meaning that it is rarely the most demonstrably effective online media an advertiser can buy. Yahoo has therefore been unable to convert the eyeballs and the minutes it does enjoy into ad dollars as effectively as its rivals."
Even Clarkson admits Yahoo's long history, dating back to the 1990s, means "it is quite difficult to define what Yahoo is now".
Yet things appear to be going better than its troubled reputation might suggest. UK revenues rose 26% in the first half of 2016 thanks, Clarkson says, to its focus on mobile, video, native and social (dubbed implausibly "Mavens" by the parent company).
Yahoo was also ranked as one of the most improved digital ad sales houses, ahead of Google and Facebook, in an IPA survey of UK media agencies in April and Yahoo's finance news pages received their highest traffic in four years at the height of the Brexit vote drama.
Clarkson has been on a mission to boost morale. That has ranged from inviting inspiring guests to speak to Yahoo's staff on Friday afternoons to visiting media agencies and doing "a lot of education pieces" for them. "We do have to compete with the fact that young 'uns are probably more familiar with social media companies" such as Facebook and Twitter, Clarkson admits.
He has also been wooing agency chiefs who "hadn't seen anyone from Yahoo for a while" – something he first discovered while researching the job last year.
His efforts to "re-engage" Yahoo with agency land and "simplify" its offering have been noted. A rival digital media owner says: "Nigel's done a great job. He has massively raised the profile of a previously invisible brand. Some people criticise him as too much of a schmoozer but I don't buy that. He needed to see people." James Wildman, chief revenue officer at Trinity Mirror and former Yahoo UK managing director, agrees: "He is a force of nature. He is highly personable and he has worked at his high profile."
It helps that Clarkson is sociable. Steve Parker, chief executive of Publicis Media in the Middle East and best man at Clarkson's wedding, was in the same year at the Duke of York's Royal Military School in Dover, where the boys marched to breakfast and did an hour's church parade on Sundays in full military gear.
Another Duke of York's contemporary was Henry Daglish, who is about to launch a media agency for the7stars. His older brother, Simon Daglish, deputy managing director of commercial at ITV, later hired Clarkson at Classic FM.
Their school fostered "an utterly competitive spirit" but "with a smile on our face", Clarkson says, and left him with a sense that "I absolutely want to win at everything that I do in life".
The experience shaped him in other ways when he moved to London, as he liked living in a house full of people. Andrew Mortimer, director of media at Sky, was just one of a dozen or so people to pass through what he jokingly calls "the Clarkson orphanage" over the years. "I like to have people around me," Clarkson says. "Maybe it's a boarding school thing."
Clarkson has an older brother in the army but didn't fancy a military career. After a degree in economic and social history at the University of York, where he played a lot of sport and did a dissertation on advertising, Clarkson landed a job in ad sales at Dennis Publishing. Then it was on to More O'Ferrall Adshel (now known as Clear Channel) and Classic FM. "I'd always known I'd wanted to work in advertising and marketing," he says, recalling Milky Way TV ads from his childhood.
His big break came when he was 29 and headhunted by Primesight. Heading sales for a £60m turnover business with 40 staff "gave me a taste of building a team", Clarkson says, and he dealt with corporate change during a sale and private-equity buyout.
Some friends were surprised by his move sideways to head of sales at LivingSocial, a discount deals website, in 2012 and then managing director of Weve, the mobile networks' ad platform, in 2013, when he could have accepted an offer from a blue-chip like ITV. "I needed to get into digital and mobile," Clarkson counters. "It would have been difficult to get into a job at Yahoo without that experience."
As a newcomer to digital, he dislikes how traditional media owners and the new online players "barrack each other" over issues such as reach, fake views and ad-blocking. "There are problems with every industry but there's loads that is right," he says. "I don't think we spend enough time celebrating stuff."
Such optimism should stand Clarkson in good stead as he leads his team through the merger – not to mention the impending birth of his second child.
The question everyone wants to know, of course, is will he still be here in a year's time? "Fingers crossed," he beams.