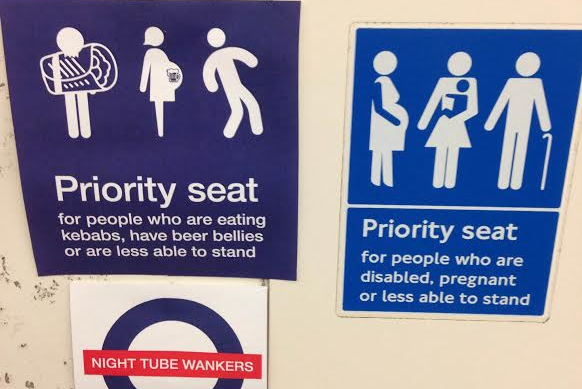 Olivia Adda and Bryn Jones-Walters created the guerilla posters as the unofficial Night Tube Notices Team and posted them on the London Underground ahead of the first overnight service on 19 August.
Among the tongue-in-cheek notices, produced in the style of Transport for London officialdom, is a warning about a £100 fine for "discussing politics when the rest of the carriage is having fun".
There is also a Priority Seat notice for "people who are eating kebabs, have beer bellies or are less able to stand."
The service, which runs through the night on Friday and Saturday, initially on two lines, kicked off on Friday night after long delays caused by negotiations between TfL and the RMT transport workers' union.
Adda and Jones-Walters said: "Friday 19th marked the first day of the Night Tube, but we saw a problem. The daytime rules don't apply on a midnight underground train, so we decided we'd do something about it.
"We created a whole batch of new signs, called Night Tube Notices, and put them out in London to inform people how to behave on TFL's new service."