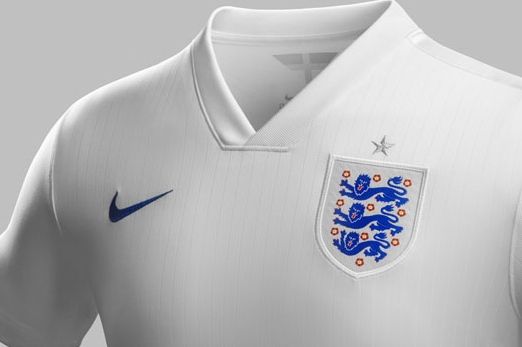 While Nike compared the kit to the "armour of English Knights", Barton dismissed any associations with chivalry, asserting that it showed that football "again allows commercialism to eat away at its soul".
The Nike England kit replaces the previous kit only seven England matches after being introduced last May, when Nike replaced Umbro as kit sponsor.
The highest-priced Nike "match" shirts cost £90 and are identical to those to be worn during this summer's World Cup finals in Brazil. Other shirts are priced £60 for "stadium" shirts and £42 for shirts for children aged between eight and 15.
The FA reacted by distancing itself from the furore, issuing a statement which said: "The FA's policy is to avoid any involvement with how its partners/licensees set their prices, so as to avoid any risk of or implications of price fixing."
Nevertheless, Barton took umbrage with what he perceived as cynical "commercialism":
Appalling. In my opinion. Football again allows commercialism to eat away at its soul. Something has got to give.
— Joseph Barton (@Joey7Barton)
March 31, 2014
In another post on the social network, the controversial footballer tweeted: "It's literally a white sports top with an England badge on. Costs about £2 pound tops to make in some sweatshop in the east."
Meanwhile, shadow minister for sport Efford said: "The game of football seems to be increasingly about profit and commercialism, rather than the community and the fans, who have sustained football for many generations.
"The frequency with which these kits are changed adds to the expense. When it comes to buying for more than one child, it gets extremely expensive and people on moderate or low incomes are excluded from that privilege."
Martin Lotti, Nike Football's global creative director, talked about the kit's design in a press release: "Two references really stood out during the design process for the home kit," he said. "That stunning all-white kit England wore in Mexico in 1970 and the idea of the armour of English Knights."