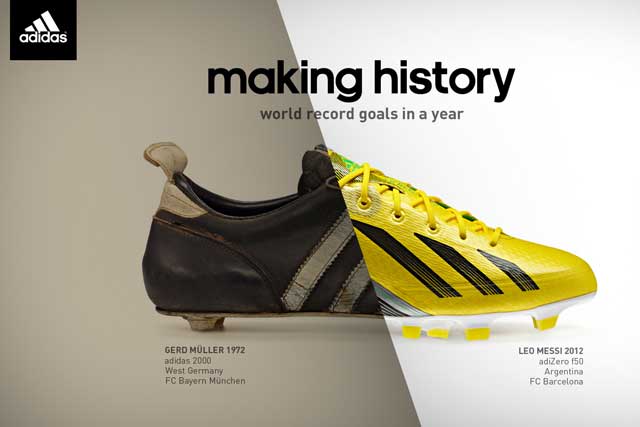 Nike ran a social media campaign, created by AKQA, promoting its Nike+FuelBand. It challenged Manchester United and Manchester City fans to earn Nike Fuel points in the days leading to the derby match.
Those earning the most Nike Fuel points stood the change of winning tickets to the return derby match at Old Trafford later in the season. Nike also ran perimeter board advertising to support the Nike+FuelBand during Sunday's match.
Rival adidas, meanwhile, also ran a campaign highlight Barcelona star Lionel Messi beating Gerd Muller 's long-standing goals record in a calendar year.
Germany and Bayer Munich start Muller netted 85 times in 1972. Messi trumped his goal tally at the weekend, after he scored twice in a match against Real Betis on Sunday.
The ad was created by TBWA and an in-house team. It carried the headline, "making history," and the strapline, "world record goals in a year".
The digitally-focused campaign ran across all adidas' social media channels.