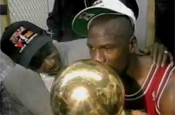 The 60-second ad, called 'Courage', will feature athletes sponsored by Nike over the years, including basketball legend Michael Jordan, former Wimbledon champion John McEnroe and seven-time Tour de France winner Lance Armstrong. The ad will also feature contemporary stars, including Cristiano Ronaldo, Kobe Bryant, Rodger Federer and Liu Xiang, as well as South African sprinter and double-amputee Oscar Pistorius, who had hoped to compete at this summer's Olympics.
In total, 31 athletes appear in the ad, which was created by Wieden & Kennedy. The spot launches in selected markets on 19 July and will be rolled out globally a week later.
The soundtrack to the ad is All These Things That I've Done by The Killers. The campaign will be supported by an interactive website at www.nike.com/courage, where visitors can explore the stories behind the athletes and add comments.