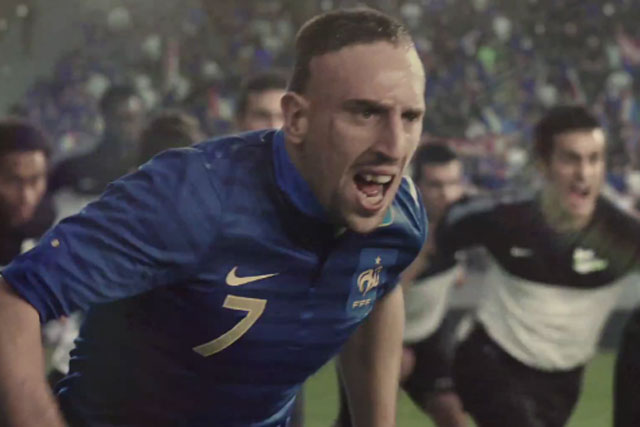 The television campaign, created by Wieden & Kennedy, is set during a France versus Holland football game that is interrupted by waves of young players who invade the pitch to show they have the skills and hunger to take on the best players in the world, including Wesley Sneijder and Danny Welbeck.
The rising stars in the advert each wear a black and white jersey, which Cristiano Ronaldo also trys to pull on, only to realise it's too small.
Pep Guardiola, the former Barcelona manager, Laurent Blanc, World Cup winner and LeBron James, the basketball star also make guest appearances in the ad, alongside footballers including Andres Iniesta, Mesut Ozil, Gerard Pique and Javier Hernandez.
Nike premiered the ad on television during the Champions League final on Saturday (19 May).
It made its debut on Facebook, Twitter, YouTube and nikefootball.com and is being supported by an interactive video that invites viewers to unlock additional content through hidden "tunnels".
Also promoted in the campaign is the Nike Clash Collection of boots that are designed to stand out on the pitch through their vibrant colours. They will be available to buy from 6 June.
The 'My Time is Now' campaign will be supported by digital, out-of-home and print activity.
The campaign coincides with Nike's 'The Chance' global talent search for the best upcoming players.
The search is running in 55 countries through May to August. The best 100 players will take part in global finals at FC Barcelona's youth academy.
The best 16 players will then be sent on a training tour of some of the best academy teams in the world, including Manchester United, Juventus and the US Youth National team.
One player will win a place at the Nike Academy, which is now entering its second year in partnership with the Premier League.
The media for the campaign was bought by MindShare and the campaign is expected to run through the summer.
Follow Matthew Chapman at @mattchapmanUK