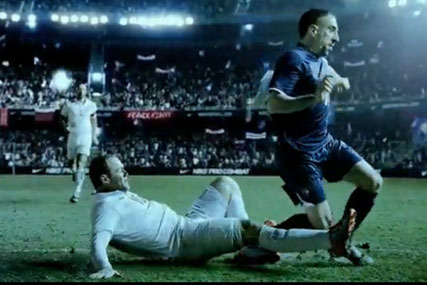 In each segment of the ad, by Wieden & Kennedy Amsterdam, the viewer sees a crucial moment of the match, and the implications of either making a winning contribution or making a mistake.
The section involving Rooney shows his pass to fellow England forward Theo Walcott being intercepting by French winger Frank Ribery, leading to a financial depression in the UK and the decline of Rooney's career, before he is shown having grown a huge beard and living in a caravan.
In the alternative moment, Rooney is able to track back and tackle Ribery, becoming a national hero with a generation of sons named 'Wayne', as well as being knighted by the Queen.
Later in the ad, as Cristiano Ronaldo stands over a free-kick, we see a possible future in which Portuguese football fans gather at the unveiling of a statue of the former Manchester United player. He is also seen appearing on US TV show 'The Simpsons'.
The ad launches tomorrow, Saturday 22 May, during coverage of the UEFA Champions League Final between Bayern Munich and Inter Milan on ITV1.