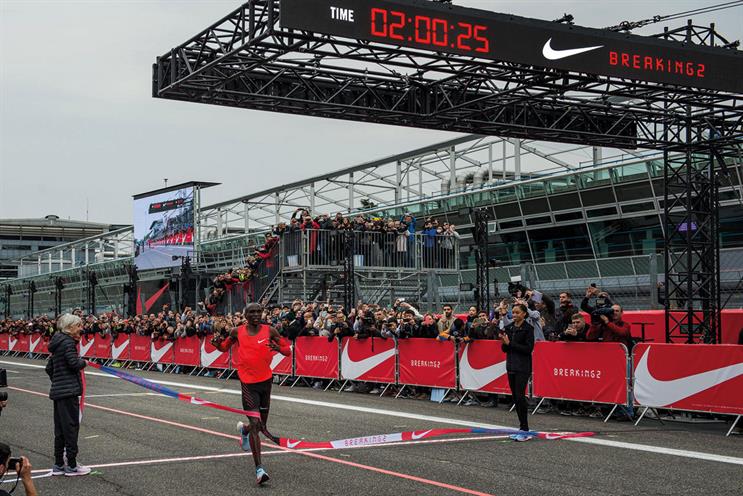 This dedication delivered an ever-elusive "marketing moonshot" last week when Kenyan Eliud Kipchoge missed out on becoming the first athlete to run a marathon in under two hours by 26 seconds.
It was an athletic endeavour broadcast live by Nike, in an event entirely of its own creation that, at the time of writing, had notched up 5.2 million views for the brand on Facebook.
The campaign has drawn comparisons with Red Bull's genre-defying Stratos event, which successfully captured the public's imagination after Austrian skydiver Felix Baumgartner dropped from near-space.
Yet while the rhetoric of marketing moonshots and innovation have been in full flow, the creative evidence of this type of innovation has arguably been less forthcoming.
Tim Crow, chief executive of Synergy, said that such moonshots require big ambition and often equally sizeable budgets. He explained: "For Red Bull, it was the ultimate expression of the brand idea and you can't beat that."
For Nike, the model is essentially the same but the strategy is very different. "This is unashamedly attempting to put the heat back into the Nike brand," Crow said. Performance running may well be a tiny market but it is clearly hoped that the campaign will have a halo effect on the fast-growing mainstream lifestyle running sector.
Such an approach, according to Jo Allison, editor at behavioural insights company Canvas8, is reflective of the fact that Nike views its marketing investment as a "marathon, not a sprint".
Nike has also invited consumers to run a sub-25-minute 5K using its running app to get early access to Zoom Fly trainers. This, Allison says, is one of many ways in which the brand is seeking to cut through the commoditisation of sport and drive that sense of exclusivity among consumers.
It is clear that owning a moment in time – in this case, the sub-two-hour marathon – affords brands a greater opportunity for creative ownership than traditional rights deals. With Facebook throwing its weight behind live sports broadcasting and seeking brand partners, it is a trend that is set to grow. Luke D'Arcy, UK president of Momentum Worldwide, said this shift could act as a wake-up call to rights-holders.
Crow added that world records present a brilliant anchor for brand innovation and, in the wake of doping scandals and traditional athletics events losing the battle for consumer attention, the market is ripe for disruption. He added: "We won't see a moonshot every week but it has never been easier for brands to act as broadcasters."
What has your brand achieved?
By Nils Leonard
You told us about your new product.
You might actually have entertained us for just under 30 seconds and your social media may have perfectly matched in tone of voice the work we saw yesterday at a bus stop. You may have got us to actually sign up and we may have not found your eCRM campaign to be offensive or interruptive. You might have nailed your beautiful sportswear branding across every channel in the mix with complete aesthetic synergy and, while you may have crafted a brand experience with the purity of the TLC Waterfalls video, we still love Nike more.
Because while you were getting a great deal on some cross tracks and that cool site in Shoreditch, we just read on Twitter that it helped an incredible person run a marathon in two hours. Then we saw it on Facebook. Then on our actual televisions. Then, as we shared the shit out of it, we watched the making-of and subscribed for the documentary because, while you were buying the space on the back of a bus, they just helped propel human achievement.
Did they mention your brand in a focus group? Or did they mention your brand in every sports history lesson in every school everywhere from the year 2017 and every news channel on the planet just after they said the name Roger Bannister?
"Did you make a good ad?" is one question. "What are you in service of?" is another.
It's a good question for a brand. And a better question for an agency.