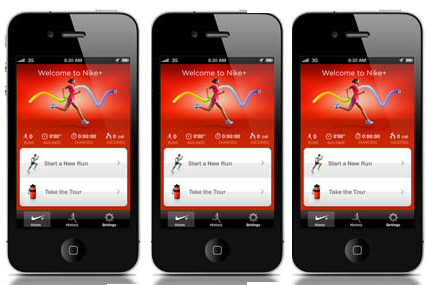 The sportswear brand has tagged it the first "Runners' App", engineered to operate seamlessly between GPS and an accelerometer for an accurate, motivating and entertaining runner's tool.

The new app allows runners to visually map every run while tracking pace, distance, time and calories burned, and includes instant feedback during and after each run, from athletes such as Paula Radcliffe and Lance Armstrong.
It also connects runners around the world to Nikeplus.com, which is the largest running community in the world, with more than three million members.

The Nike+ GPS App is available today on the Apple iTunes App Store, for £1.19.

Stefan Olander, vice-president of Nike Digital Sport, said: "We are so excited to introduce the true 'Runner's App', combining the dynamic power and community of Nike+ with the user-friendly functionality of GPS and accelerometry.

"We will continue to evolve the digital options we provide to runners, so that their running experience is always unique and inspired."
The app allows users to map routes, including a breakdown of pace and distance at different points during a run. Runners can tap the screen during a run to see their current location.

The "Challenge Me" feature on the Nike+ GPS App allows runners to challenge themselves to run farther, faster, or longer than a previous run already logged. The app will also track run history in order to personalise challenges.

Runners can wirelessly connect with Nikeplus.com after each run to instantly save the run and share it with friends via the site, Twitter, or Facebook.

In addition, they can view their progress on goals, participate in running challenges, and download coaching programmes.

They will also receive motivating messages from top athletes and celebrities when specific customised goals are achieved, challenges are won, or when a personal best is achieved.
Runners can also tap the iPhone screen to receive in-run feedback.