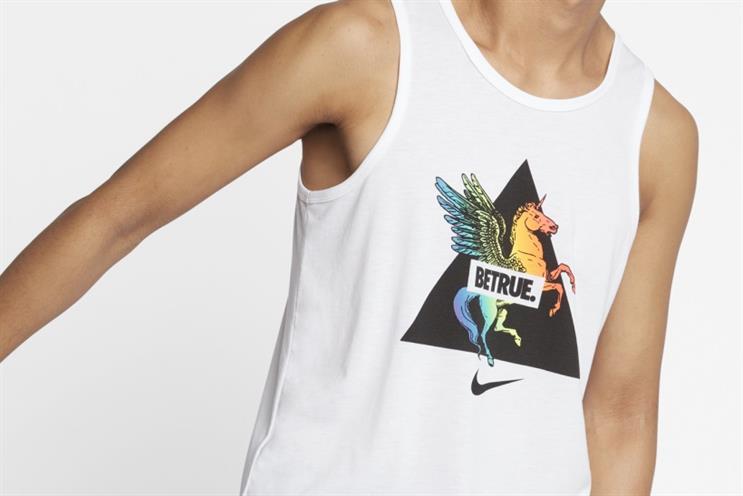 Brands have long marketed to the LGBTQ community, so much so that by 2012, NPR was asking if it was old hat. But each June, there's an abundance of rainbow flag waving—even from companies that don't regularly advertise to the LGBTQ community—to commemorate Pride Month, which marks the anniversary of New York City's 1969 Stonewall Riots.
From Pride March sponsorships to fashion collections, here are the brands that are out and proud this June.
U.S. Soccer kicks off Pride Month in rainbow game jerseys
Both Men's and Women's U.S. Soccer teams will don rainbow-colored jerseys for their games this month.
The Men's National Team wore their Pride jerseys this past weekend in a match against Venezuela, and the Women will sport the uniforms opposing Sweden (June 8) and Norway (June 11). Both teams will auction off the game-issued jerseys in an online auction benefiting the You Can Play Project, which ensures equality for all athletes, coaches and fans regardless of sexual orientation or gender identity. Fans can purchase their own customized jerseys with rainbow numbers in addition to an exclusive "One Nation. One Team" hat with rainbow lettering through ussoccerstore.com.
This isn't the first time American soccer has declared its support of the LGBTQ community. In 2016, U.S. Men's Captain Michael Bradley wore a rainbow armband to remember those who died in Orlando's Pulse Night Club shooting. It was auctioned off to benefit the One Orlando Fund and Equality Florida, which gave money to the victims' families. And several players on both the Men's and Women's teams are openly homosexual.

Nike wants LGBTQ community to 'Be True' to themselves
This month, the sportswear brand unveils its fifth annual Pride collection. Titled "Be True," it consists of rainbow-hued sneakers, shirts and socks, some with a unicorn displayed on them.
"The key for us was to create something that people could unite around to show their support for LGBTQ athletes," Robert Goman, LBGT network leader at Nike wrote on the company website. "Sporting your rainbow in the gym or on a run became a way to feel like you belonged to something larger – you were connected to being 'out' or being an ally. The rainbow has and always will be incorporated into the BETRUE product in some way."
This year represents the first time the "Be True" collection is available to purchase in brick-and-mortar stores worldwide.
Twitter returns with its pridemojis
In 2016, Twitter unveiled the "pridemoji," a rainbow-striped heart. This year, the social network is including the pastel pink and blue-hued trans flag in its second edition of pridemojis. The new hearts will show up in tweets that include the hashtags #LoveIsLove, #Pride2017, #PrideMonth and #PrideIsHappening.
While the new pridemoji doesn't include the color white, which appears on the trans flag to represent nonbinary people, intersex people and those in the process of transitioning, Twitter says it was omitted for space constraints, not out of slight.
????????
HEAR YEE HEAR YEE,
It's officially Pride Month! So we can now announce the 2017 Twitter Pridemojis!
?

— Twitter Open (@TwitterOpen) June 1, 2017
Target aims for the bullseye on Pride
Named no. 7 on Logo's annual list of "Trailblazing Companies," Target is back this year with LGBTQ-friendly shirts, pins and even a rainbow-maned unicorn pool float for June. But the retailer isn't just vocalizing its support for Pride Month online: In-store displays showcase Target's rainbow apparel and encourage shoppers to use #takepride in their store selfies.
Instagram paints the town rainbow
If consumers forget to buy a selfie-ready, rainbow tank from Target, they can still show their pride on Instagram with its new stickers and rainbow brush. All six stickers were created by five LGBTQ artists from around the world. Users can tap the sticker to discover which artist is behind it.
Instagram is also revealing its pride offline by painting walls as "colorful beacons of support." It started last week by transforming fashion designer Paul Smith's iconic pink wall in Los Angeles into a rainbow, prompting—what else?—photos of it uploaded to Instagram. Additional rainbow murals are planned for Madrid, Nashville, London and Cleveland.
Levi's fights stigma
The denim brand Levi's has long advocated for LGBTQ rights. In 1992, the marketer claims to be the first Fortune 500 company to extend domestic partnership benefits to same-sex couples and to be the first business to file an amicus brief with the California Supreme Court in support of same-sex marriage in 2007.
This month, Levi's continues its support with a capsule collection benefitting the Harvey Milk and Stonewall Community foundations. From T-shirts to boxer briefs to jorts, every item in the fashion line carries the theme of fighting stigma. The marketer also interviewed LGBTQ influencers and its own employees about how they're battling stigma in their own lives.
Converse says yes to all
"When it comes to your authentic self, there are no limits," Converse writes on its website about its 2017 "Yes to ALLLLLLLLLLLLLLLLLL" collection. The shoe brand has created a rainbow-themed assortment of footwear, T-shirts, socks and shoelaces—with all net proceeds going to the It Gets Better Project and the Happy Hippie Foundation, which both aid LGBTQ youth. One sneaker is a vintage '70s-inspired pair, which pays homage to the first Pride Parade held in New York City in 1970.
Google Doodle takes on a serious subject
The tech titan regularly sponsors pride parades nationwide, and this year, it goes a step further by recognizing the designer of the rainbow flag, Gilbert Baker, through a Google Doodle. Last Friday would've been Baker's 66th birthday; he died March 31. His flag intended to replace the pink triangle, which the Nazis had used to mark people sent to concentration camps for homosexuality and other ill-deemed sexual acts.
"I didn't even think twice about what the flag would be," he once said. "A rainbow fit us. It is from nature. It connects us to all the colors — all the colors of sexuality, all the diversity in our community."