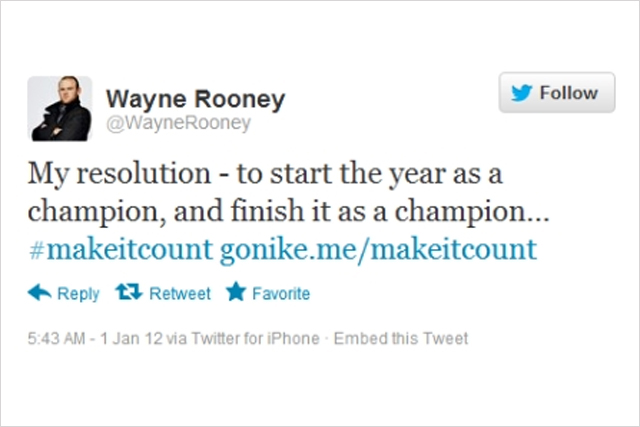 Nike has become the first UK company to have a Twitter campaign banned. The ruling from the advertising watchdog highlights a growing concern that celebrities are using their Twitter accounts as an advertising platform.
Two tweets were posted in January from the official accounts of footballers Rooney and Wilshere.
The tweet from Wayne Rooney said: "My resolution – to start the year as a champion, and finish it as a champion….#makeitcount gonike.me/makeitcount".
Makeitcount is the name of a Nike campaign. The Twitter campaign was devised by AKQA.
The tweet from Wilshere said: "In 2012, I will come back for my club – and be ready for my country. #makeitcount.gonike.me/Makeitcount".
The Advertising Standards Authority (ASA) received a complaint that challenged whether both tweets were obviously identifiable as marketing communications.
Nike defended itself, saying the tweets should be viewed in the context in which they appeared and said that Twitter was a more direct channel of communication between two parties, than traditional media.
Nike said Rooney and Wilshere were communicating to Twitter members who had chosen to "follow" them and that both footballers were well-known for being sponsored by Nike, as were the teams they played for, Manchester United and Arsenal respectively. Nike therefore thought that their Twitter followers would not be misled about the relationship between the footballers and Nike.
Nike added that for its #makeitcount campaign, it had spoken to both footballers to determine what their goals were for 2012 and, over the New Year, both had made pledges along with a link to a film in which they were appearing.
Nike also argued that the tweets could be objectively viewed as marketing communications because of the presence of the Nike URL within the body of the tweets, which indicated that the tweets' purpose was to direct followers to the Nike website.
Nike presented tweets from the footballers that did not contain the Nike URL and said it was clear which were personal tweets and which were ads.
In conclusion, Nike said that the inclusion of the Nike URL, combined with the Nike campaign strapline #makeitcount, made it clear the tweets were advertising.
But the ASA ruled against Nike.
It ruled that the Nike reference was not prominent and could be missed and also ruled that not all Twitter users would be aware of the footballers' and their teams' sponsorship deal with Nike. The watchdog said there was nothing obvious in the tweets to indicate they were Nike marketing communications, such as #ad.
The watchdog said the ads must no longer appear and told Nike to ensure that its advertising was obviously identifiable as such.
Follow John Reynolds on Twitter @johnreynolds10