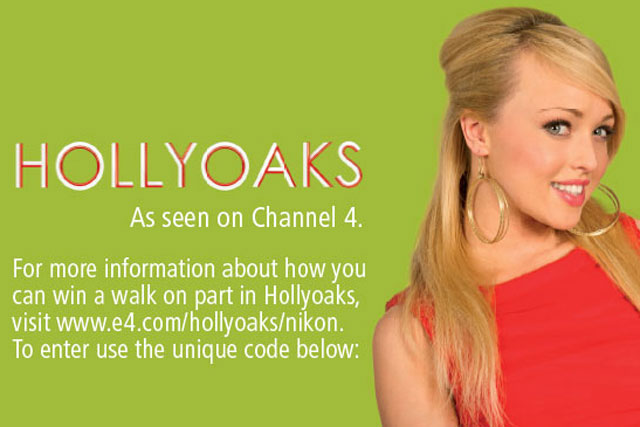 Nikon has sponsored 'Hollyoaks' throughout 2011 and has renewed for another year from 1 January 2012, in a deal negotiated by Channel 4 senior account manager Georgina Broadhurst and interactive account manager Jade Raad.
Nikon will launch a competition for consumers to win a walk-on part in a 'Hollyoaks' programme when they purchase one of the brand's Coolpix S3100 cameras.
The sponsorship deal was brokered by Louise Brown, head of partnerships at Mediacom Beyond Advertising, and promotional artwork for the competition was designed by DCH.
The competition is supported by sponsorship idents for 'Hollyoaks' on Channel 4, E4 and 4oD, with in-store, outdoor, radio and point of sale activity at Asda supermarkets nationwide. Further online activity will run through Nikon's Facebook pages and e4.com.
A licensing agreement with Lime Pictures will allow Nikon to use 'Hollyoaks' branding and character imagery on promotional packaging.
Jeremy Gilbert, group marketing manager at Nikon UK, said: "We are delighted to further build on Nikon's relationship with 'Hollyoaks' with the continued sponsorship of the programme and the launch of the competition with Asda.
"Nikon's stronger association with the hugely popular teen drama is further helping to change the perception of the Nikon brand, and attract a younger audience."
Last week, 'Hollyoaks' actress Gemma Merna unveiled the "world's biggest bra" on ITV's show This Morning as part of Reckitt Benckiser's support of Breast Cancer Awareness Month.
Follow Loulla-Mae Eleftheriou-Smith on Twitter: @LoullaMae_ES