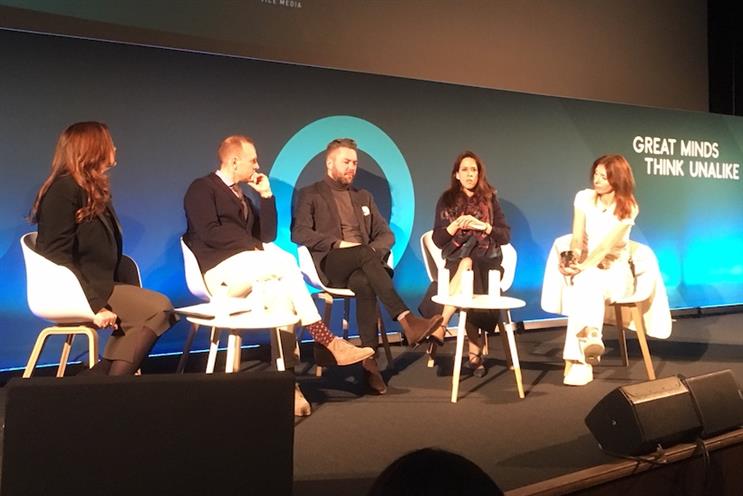 In the "Advertising on Trial" session, Marketing Society chief executive Gemma Greaves put it to a panel of four industry figures that advertising was guilty of not delivering on promises to change its "pale, male and stale" make-up.
The panel's consensus, summed up by Vice Media fashion and luxury president Tammy Smulders, was that the industry would have been guilty two or three years ago, but since then an enomous amount has changed and it's going in the right direction, especially on gender equality.
However, Uncommon co-founder Nils Leonard, rather than dwell on his two female co-founders and their agency's 85/15 female/male ratio, chose to highlight the difficulties facing people being brought into the industry who haven't been to university.
It is not that they aren't geting hired, he said, referencing the D&AD Shift initiative's achievements in that area.
"That's something not enough of us are talking about, which is actually I don't think it's hard to get people like that into agencies and companies. Where it fucks up is once they're in, no-one gives them the time and teaches them.
"They get reviewed or they go into meetings and they get eaten alive because they've not done four years learning the ropes. They don't know how to present, they don't know how to write work. Unless you carve out genuine time in the diaries of the most senior and important people in your organisation to help teach these people, it's sort of bullshit."
Leonard's point was supported by Havas UK and Europe chief executive Chris Hirst, who said the industry was guilty of talking rather than doing in regard to both gender diversity and educational diversity.
Hirst added that the amount of attention being paid to equal pay due to the onset of publication of large companies' gender pay gaps would "force change".
"We need the same degree of focus on those other pieces," he added. "The things we have to do to get more senior women in our businesses are very different to the thing we have to do to get people from different social backgrounds into our businesses."
But at a wider level the diversity of agency teams, the panel agreed, is being given more and more attention by clients, particularly in regard to senior appointments.
Claire Beale, the global editor-in-chief of Campaign, pointed out that diversity has risen up the agenda to the extent that no agency "can now make a big hiring decision without thinking so carefully about these issues and the signal they're sending to their staff and to the industry and their clients".
Clients are starting to prioritise the diversity of agency teams, even if they don't always say it out loud, Hirst said.
Diverse teams should be demanded by clients, Beale, argued: "I don't think they should allow an agency to pitch unless they've got a good track record on the diversity front. Clients have a lot of power and a lot of responsiblity to collectively drive change across the board."
That there are moves in this direction was confirmed by ISBA consultancy manager Traci Dunne, who was invited to speak on marketers' behalf.
"Procurement teams are starting to make diversity part of their sourcing process," she said. "So when they're analysing their agencies and their performance they're starting to reward agencies for inclusion and diversity and in some cases they're making sure pitch teams are diverse and inclusive of all the parts of the consumer world that they are going to be advertising to."