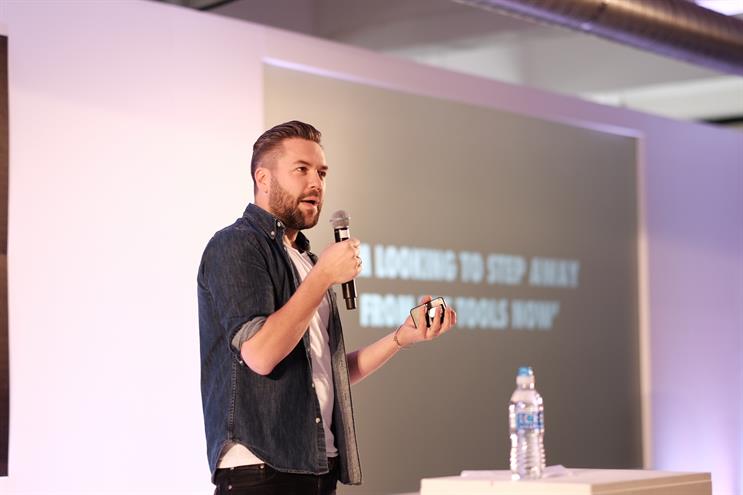 Giving a talk called "Tool Up", Leonard condemned the received wisdom that "the way to make real money [as an agency] is to just offer [clients] the strategy", saying: "but it's not fucking working for us – we're making less money and we're not attracting the best people.
"We have to change and I think making things is our way out. We can redesign our place in the world."
Leonard added that agencies too often gave up their power by outsourcing design and build tasks to others and that as creatives progressed in their careers they sabotaged themselves by doing less of what made them good at their jobs in the first place.
"As you start to get more senior you do less of stuff ... to the point where you've got to ECD and you just take photos and send emails."
"The scariest thing to hear is 'I'm looking to step away from the tools'. It's almost seen as a sign that you have arrived as a creative director."
He added: "... in our industry you either think or you make and it's implied that you're not as good if you do both. It's very frustrating."
Speaking about Grey London's own experiences with Volvo "life paint", in which the agency had a hand in bringing a safety product to market, Leonard said: "It was not a £1 million idea for us. It could have been but we didn't know what we were doing. It was something we co-created with a brand and we should have owned a part of it."
But Leonard said that Grey had since learned from its experience with Volvo and that the augmented reality kitten app that it created for McVitie's used wire-frame technology that the agency owned and had only licensed to the biscuit brand for a limited period of time.
Leonard also conceded that most people don't like advertising but said that the aim at Grey London was to become "a company that people in the real world are glad exists". He also railed against agencies that were happy to be "the shadowy advisors, whispering in their client's ear".
He went on to say: "We can try and make the one Christmas ad that everyone likes or we can change our game."