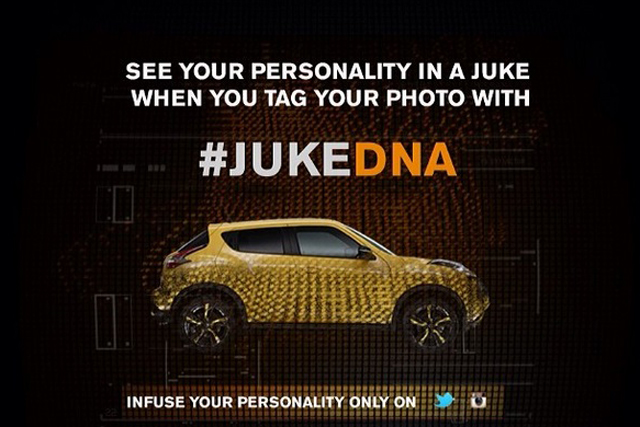 Launched at the Geneva Motor Show yesterday –- the day after Nissan unveiled its Juke model at the show – the Instagram campaign will roll out across the UK, France and Germany.
Using the hashtag #JukeDNA, Nissan fans and Juke enthusiasts are encouraged to share a picture representing their personality. In return they will be sent a personalised image of the Juke, using the colour composition of each individual's photograph. Nissan's Facebook and Twitter pages will share some of the best entries.
This latest round of activity follows an online teaser campaign that saw a pixelated image of the new Juke gradually revealed in the build-up to the Geneva Motor Show.
David Parkinson, Nissan Europe's general manager for social and digital engagement, said: "Personalisation is key for our customers and with the new Juke there is even greater opportunity for owners to really stamp their own personality on their car.
"We wanted to bring this experience to our social media communities, and Instagram is the perfect platform to do so. It already allows people to show off their personalities and express their creativity, so it makes perfect sense that we use this to support the launch of the new Juke."
Nissan sold 117,967 cars in the UK in 2013, up from 105,835 in 2012, with its market share growing from 5.18% to 5.21%, according to figures from the SMMT.
Its biggest seller is the Qashqai, the sixth biggest-selling car in the UK in 2013. This January, sales of Nissan's Juke were 2,522, placing it ninth against other car manufacturers.