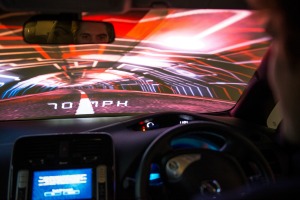 The installation at The O2 features Nissan's electric LEAF car, which is anchored to a rolling road in the company's Innovation Station. Rear projection technology has been used to produce 'Tron-like' real-time 3D graphics onto the windscreen and windows.
Visitors can drive the car through three different routes around London. The car and graphics respond to the user's breaking, accelerating and steering movements.
Lizzy Chase, project manager at Projection Artworks, said: "This is a really unique way to enable people to experience the car without taking it out for a test drive.
"Projecting a virtual world onto the windscreen and side windows makes for a very immersive experience. It's really reactive too – you're pressing the accelerator, steering round corners and choosing which way to turn, so it's about as real a virtual test drive could get."
Projection Artworks has previously used video mapping tools in activations for Virgin Money and luggage company Kipling.
Comment below to let us know what you think.
Subscribe to Event magazine to read about Katie's day at the Nissan Innovation Station.
Follow @dollydeighton