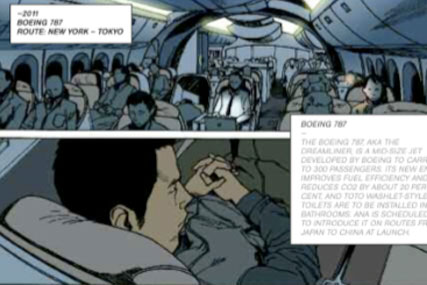 The global affairs magazine, which was set up in 2007 by Tyler Brûlé the founder and former editor of Wallpaper magazine, commissioned the Japanese artist Torajiro Kishi to create the 'Hiyaku' series after a direct deal with Nissan.
The cartoon follows the adventures of businessman Alessandro, who sets out on a quest to live a simpler life. The Nissan car he drives within the story becomes an essential part of the narrative.
Brûlé said: "For the setting, we chose Hayama, a town near Tokyo with a relaxed pace and laidback feel, and we decided our hero would drive a Nissan Leaf, because it complements his understated style."
The Leaf is the new 100% electric zero emission vehicle from Nissan, which will be rolled out across Europe from January 2011 after its launch in the US and Japan by the end of this year.
Monocle previously ran a manga series called 'KitaKoga' from 2007 until the beginning of this year, featuring special agent Niels Watanabe and his global adventures and product placement from Prada, American Express and Carlsberg.
The first issue of 'Hiyaku' is bound into the November issue of Monocle, out now. It will run for five issues until March 2011 and every issue will also be accompanied by a two-page advertorial showing the research and development of the 'Hiyaku' story.
In the four years since its launch, Monocle has extended its brand reach to include Monocle shops in London and New York that sell clothing and accessories, a weekly summer radio show and a £7 newspaper called Monocle Mediterraneo, which was sold internationally throughout the summer at selected resorts and airports.