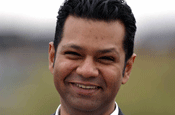 Their appointments follow the departure of Paul Shearer, the former global executive creative director, and Johan Fourie, the former managing director, who left to set up Arnold UK in May.
Coward will now take responsibility for the agency's Volvo business in Europe and Asia, while Hui will assist the managing director, Kate Howe, in driving growth at Nitro London, as well as taking on strategic planning responsibilities on Volvo.
Both Hui and Coward will report to Howe.
Howe said: "It took time to find the right people, but we held out for the best and it was worth the wait. Everyone 'gets' the Nitro model, but finding people good at delivering it is another matter."
Hui's appointment ends a period of uncertainty over his future. He was set to join RMG Connect as the executive planning director last September, but pulled out of the job at the last minute.
The appointment reunites Hui and Coward, who worked together at WCRS between 1998 and 2000.
Coward's career also includes a stint at Simons Palmer Denton Clemmow Johnson and TBWA.
The hirings follow the recent appointment of Proximity London's chief financial officer, Damien O'Donohue, who joined Nitro in an equivalent role last month.