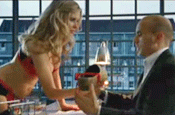 The academy launched last year with the aim of rewarding innovation within the ad industry.
The Nitro spot, which encourages women to "give wood" to their lovers, was picked from 51 submissions.
Paul Shearer (pictured below), global creative executive director at Nitro, said: "'This has been a great opportunity and gave some of our junior creative teams the chance to get their teeth stuck into some really high profile work.
"We were able to push the boundaries of creativity and we are chuffed to bits to have won it."
In the ad, three scantily clad women give various wooden objects to their lovers.
The viral, which had a budget of £25,000, ends with the strapline: "Give him wood this Valentine's."
Nitro creative executive director Paul Shearer on set with actresses from the ad.