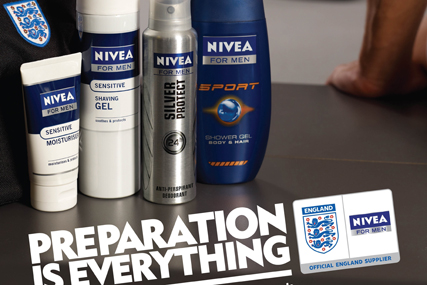 The Beiersdorf-owned brand's print and outdoor ads, by Draftfcb London, are based around the strapline 'Preparation is everything'. They show the Nivea For Men product range in the foreground, with a group of England players getting changed in the background.
Andrew Rawle, Beiersdorf marketing manager, said: "This association with the team aims to make male grooming more accessible."
He added: "'Preparation is everything' reinforces the relevance of the Nivea For Men brand with the audience."
Nivea for Men signed a four-year deal to become the first official grooming supplier to the England football team in March. The deal was negotiated by Octagon.
Nivea products, such as the high-performance Q10 range, will be used by the players. England fans will be able to buy Three Lions Crest Nivea for Men grooming gift packs.