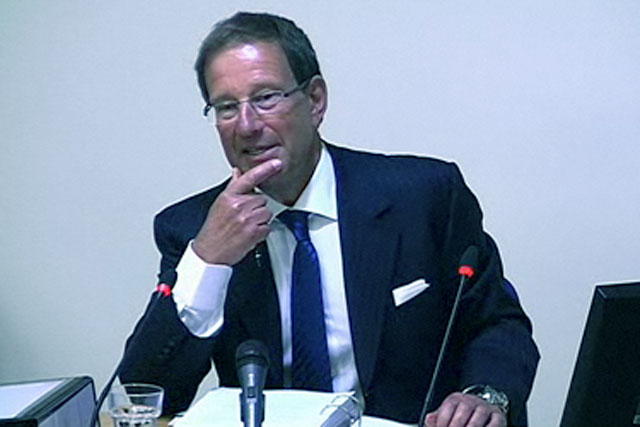 Desmond, the owner the Daily Express, Sunday Express, the Star titles and Channel 5, was quizzed on oath at the Leveson enquiry into press standards in London.
Desmond heavily criticised the newspaper trade body, saying he "couldn't understand what it was doing" and "what was the point in being a member of the NMA", which Desmond is thought to have paid out around £250,000 a year in membership.
In 2007, Desmond pulled the plug on his investment in the NMA, the trade body set up in 2003 to improve national newspapers' standing with advertisers and agencies.
The other major newspaper groups, including: News International, publisher of The Sun and The Times; Guardian News & Media, publisher of the Guardian; and Daily Mail & General Trust (DMGT), publisher of the Daily Mail, are members.
Desmond told the Leveson enquiry that the millions of national newspapers printed daily rendered the NMA a redundant organisatioin.
He also told the enquiry an amusing anecdote of a 17-year-old receptionist working at Northern & Shell who earned £18,000 a year. She moved to the NMA after being reportedly lured by a £35,000 salary. "This did it for me," said Desmond.
Today an NMA spokesperson denied the employee, who is no longer with the company, was ever paid anything like £35,000, adding: "The woman in question was paid an appropriate market rate. I have no idea what she told Richard but her salary was much closer to half of that stated."
Despite the criticism, Paul Hayes, chairman of the NMA and NI's head of commercial, said it would "would always welcome N&S (Northern & Shell) to the NMA as a full, transparent, collaborative partner".
The boss of OK! and other celebrity titles also gave a damning assessment of the value of journalism in the current market place.
Desmond, commenting on the troubled state of the circulations of national newspapers, said the only way to grow circulation was by either cutting the cover price or offering sweeteners such as free DVDs with newspapers.
He said: "With respect to journalists and editorial, that is the only way to increase circulation."
Follow John Reynolds on Twitter @johnreynolds10