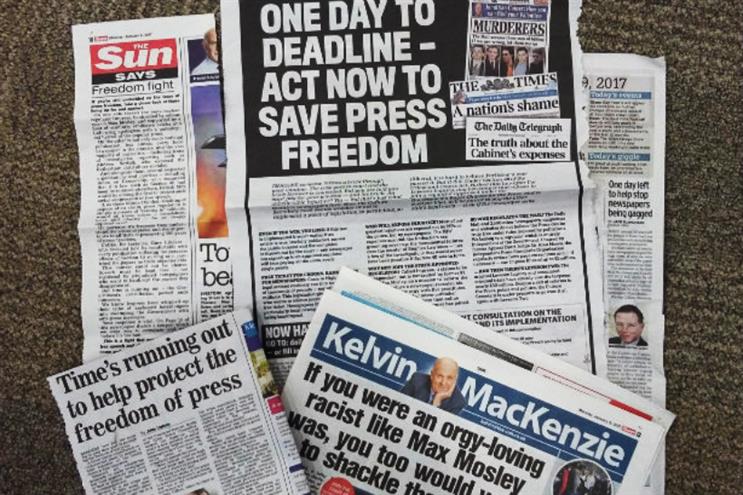 In November, the Department for Culture, Media & Sport and the Home Office launched a public consultation on the Leveson Inquiry and its implementation.
The aspect that has attracted most attention is whether to implement Section 40 of the Crime and Courts Act 2013 - a measure that would make members of a recognised press self-regulation scheme exempt from paying their opponents' legal costs, even if they lost a court case.
However, it would also mean publications not part of a recognised self-regulation scheme liable for all parties' costs, even where they won a case. There is only one approved self-regulator, the Max Mosley-backed Impress, while the more widely used Independent Press Standards Organisation has not sought recognition.
The News Media Association has played a role in coordinating coverage of the consultation, which has included a number of publications urging its readers to tell the Government not to implement Section 40.
Yesterday's coverage includes a column from Kelvin MacKenzie in The Sun entitled 'If you were an orgy-loving racist like Max Mosley was, you too would want to shackle the press', a full-page call to action in the Daily Mail and a story on page two of the Daily Mirror.
Lynne Anderson, NMA Deputy CEO, told PRWeek: "This is a campaign which has united a diverse industry in a way we have rarely seen before. Publishers will not be coerced into joining the state-approved regulator Impress, which is funded and run by those with an agenda to silence the press. There is already a tough, independent and impartial press regulator, IPSO, which regulates over 2,600 newspapers, magazines and online publications.
"To see the industry – from the smallest of local weeklies to the biggest national titles - rally together with such strength of feeling highlights the severity of the issue. The NMA will continue to fight for the freedom of the press from state-backed regulation."
Significant coverage was devoted to the issue by a number of national newspapers last week, with the Metro publishing its first opinion piece in 17 years of publication on Wednesday last week. The paper said it was the best-read item in the paper's digital edition that day.
Metro editor Ted Young told PRWeek: "I felt we needed to join this important campaign and, with more than three million readers, I hope we can play an important role in raising people's awareness of just what is being proposed."
Dylan Sharpe, who is The Sun's head of PR and writes some of its leaders, said: "We were aware that the likes of Hacked Off had stoked up their followers into submitting responses, so it was critical that the counter-argument was put forward.
"As votes over the past 12 months have shown, it's often harder to defend the status quo in the face of a push for radical change. But we've been cheered by the number of Brits who will stand up and defend free speech and the importance of keeping newspapers free of state interference."
This article was first published on www.prweek.com