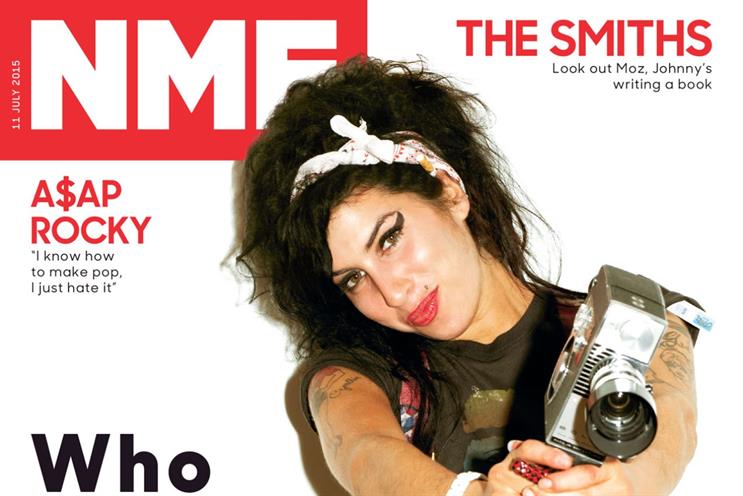 Following the move from its £2.50 cover price to free, a statement from Time Inc today said NME will "dramatically increase its content output and range", through a mix of original and curated content.
More than 300,000 copies of NME will be distributed nationally through train stations, universities and retail partners.
It will also expand its live events and video franchises, and attempt to further boost engagement with users on new social platforms. NME will also continue to grow its global footprint.
Speculation surrounding the magazine's future as a paid title has been mounting since the start of the year.
For many, the challenge facing the music brand that launched as New Musical Express back in March 1952 has been symbolic of the battle many publishers' of passion brands face trying to navigate the shifts in media consumption habits.
From print circulation highs of 300,000 in the late 70s, NME's weekly circulation has been falling period on period throughout much of the last three decades.
At the start of 2000, the magazine was still selling more than 75,000 copies a week - mainly through newsstands. At the time of its last official audit for the second half of 2014, its print circulation was just 13,995.
There had been modest growth achieved for its digital replica version, up 6 per cent to 1,389, but even when added to the print edition, NME's combined circulation of 15,384 still represented a drop of 21 per cent year on year.
However, the music brand continues to resonate with musicians and fans alike, and its digital footprint - both through its website and social media platforms - is among the largest in the business.
Beyond the weekly product, on Twitter @NME has more than 760,000 followers and its Facebook page has more than 555,000 fans. The website, www.nme.com, generates more than 5 million unique users per month and is credited for being a pioneer of sorts in mobile, digital publishing; integrating news, video and features with events, users comments and social platforms.
But NME's relative digital and social successes have not been enough to sustain its editorial team, where numbers of full-time staff have halved over the last five years to fewer than 10 today. Collectively they now manage a network of regular freelancers and contributors.
A number of new full-time hires are expected to be made as the brand increases its magazine and digital offering.
Time Inc is hoping a free, broader NME will be able to maintain an extended print run of more than 300,000 to help attract advertising from lifestyle brands that will more than offset the multi-million pound additional costs associated with the magazine's extended print run and production expenses.
Mike Williams, editor of NME, said: "NME is already a major player and massive influencer in the music space, but with this transformation we'll be bigger, stronger and more influential than ever before. Every media brand is on a journey into a digital future.
"That doesn't mean leaving print behind, but it does mean that print has to change, so I'm incredibly excited by the role it will now play as part of the new NME. The future is an exciting place, and NME just kicked the door down."
From 18th September 2015, NME will be hoping to replicate the apparent success other established weekly print magazines have had in moving to a free proposition, not least the entertainment listings magazine, Time Out.
Since dropping its £3.25 coverprice on a print circulation of 55,000 in September 2012, Time Out has been able to expand its editorial coverage, more than double its ad pages and last posted an average weekly distribution of 308,579.
Commenting on NME's move, Marcus Rich, chief executive of Time Inc UK, said: "This famous 63 year-old brand was an early leader in digital and has been growing its global audience successfully for the best part of 20 years. It has been able to do so because music is such an important passion and now is the right time to invest in bringing NME to an even bigger community for our commercial partners."