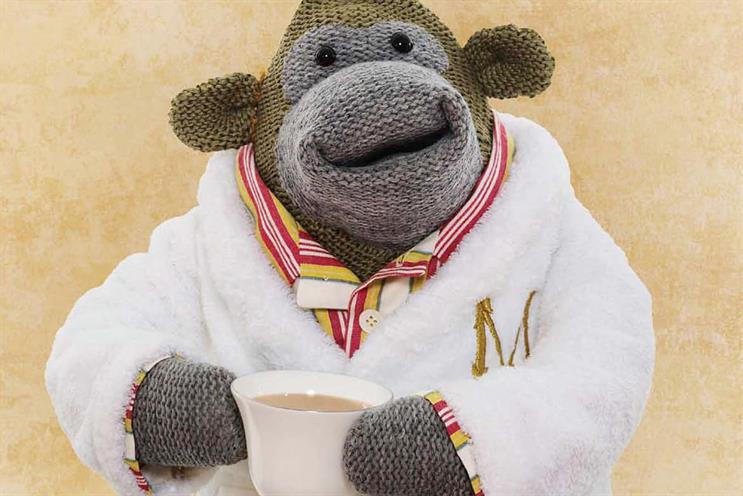 He's known simply as Monkey, although he isn't a real primate. Just an animated knitted sock that can stake one of the oddest claims to a place in adland's annals.
What's remarkable is that Monkey is probably the only character in modern advertising history to have been used to promote one brand then reused to market another.
A creation of Jim Henson's Creature Shop, Monkey was brought to the screen by Mother to rebrand the then ONdigital, a pay-TV service, as ITV Digital. A series of TV spots that paired Monkey with Al, played by Johnny Vegas, proved highly popular. So much so that ITV Digital purchasers were sent a soft-toy Monkey when they took out a subscription.
However, Monkey was arguably the only successful thing about ITV Digital, which closed in March 2002. Monkey, though, not only survived but thrived. Demand for promotional Monkey toys was so high – and supplies so short – that one sold for £150 at the ITV Digital bankruptcy auction.
Meanwhile, a lively trade grew in Monkey knitting patterns. But nobody could capitalise on the character because of a legal dispute between Mother and ITV Digital over the rights to him.
It was eventually resolved when they donated his intellectual property rights to Comic Relief. In January 2007, Mother brought back Monkey and Vegas to launch new advertising for PG Tips. It was seen as a possible answer to PG Tips' search for a replacement to its chimps advertising, which began in 1956 but ended in 2002.
PG Tips marketers feared using Monkey and Vegas due to their previous associations with another brand. They need not have worried: the brand currently has almost 28 per cent of the £606 million UK tea market – its best performance in ten years.