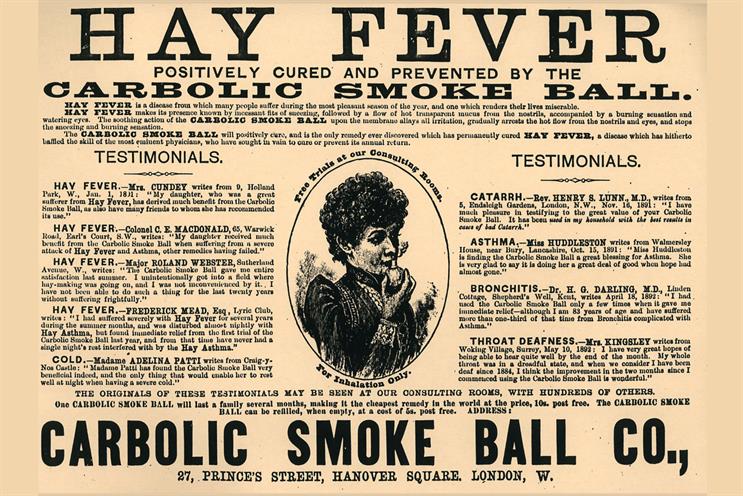 If the London housewife Louisa Carlill hadn't gone down with flu in January 1892, the story of advertising regulation in Britain might have been very different.
Eager to avoid the flu epidemic that had spread across Europe killing 250,000 people, she acted on an ad in the Pall Mall Gazette by the Carbolic Smoke Ball Company.
Even by the extravagant claims advertisers were allowed to make at the time, the ad made some extraordinary assertions. It promised that its product could not only "positively cure" the scourge but prevent users from contracting it in the first place.
So confident was the company that it offered £100 – the equivalent of almost £40,000 in today's money – to anybody who contracted flu after using the smoke ball correctly.
Despite squeezing the ball to send a puff of smoke up her nose three times a day as directed, Carlill caught the flu. So her husband wrote to the company claiming her £100.
It refused to cough up, dubbing her claim as "impertinent". Carlill sued in the High Court, claiming there was a contract between her and the company.
Frederick Rowe, the owner of the Carbolic Smoke Ball Company, said the ad was "mere puff", was understood to be so by the public and that the offer could not be understood to have been made to the entire world.
The fact that the company had deposited £1,000 in a bank to indicate the seriousness of its claim was one of the factors that led to the court ruling in Carlill's favour.
In saying that the ad was a contract, the court paved the way for a proper system of consumer protection and honest advertising. The case led to the passing of the 1893 Sale of Goods Act that greatly increased consumers' rights.