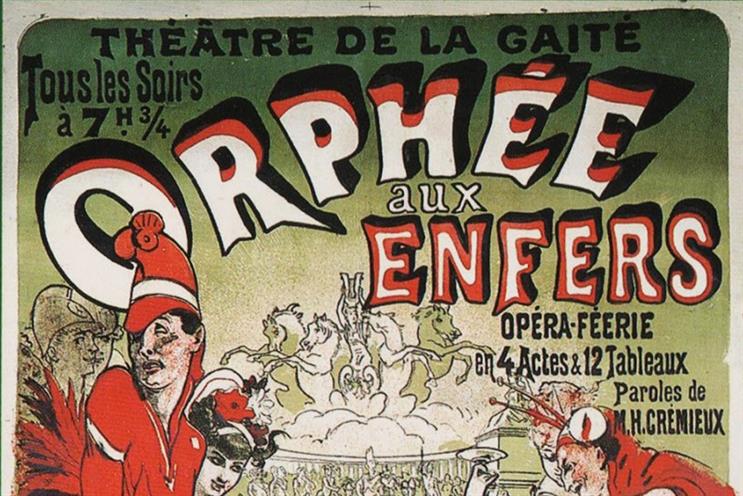 Acclaimed as the father of outdoor advertising, Jules Chéret had the most unlikely credentials to back his claim to fame.
A one-time designer of jam-jar labels and invitation cards who left school at 13, his artistic skills were largely self-taught and he only turned to advertising when he was short of cash.
But Chéret had the fortune to be born in the right place at the right time. Paris at the end of the 19th century had been redesigned with wide boulevards that Chéret made his gallery. It also had a growing middle class whose enthusiasm for consumer goods had been heightened by the arrival of the industrial age.
What's more, Chéret possessed the right combination of technological and creative expertise to pave the way for an outdoor industry about to come into its own.
A printer by training, he stretched colour lithography to its limits, showing what could be achieved by using just three or four colours.
Having spent the early part of his career in London drawing pictures for the Maple furniture catalogue, Chéret returned to Paris destitute.
His first big break came in 1858 when he sold his first poster design, promoting performances of Jacques Offenbach's Orphée Aux Enfers, for 100 francs.
His second was meeting the perfume manufacturer Eu­gène Rimmel. On seeing the designs Chéret had done for his company, Rimmel provided the cash that allowed him to open his own printing house.
The explosion of colour that Chéret brought to Parisian streets in everything from ads for the Folies Bergère to soap influenced other artists, including Henri de Toulouse-Lautrec, to join in as the use of posters to advertise products spread from Paris and across Europe.