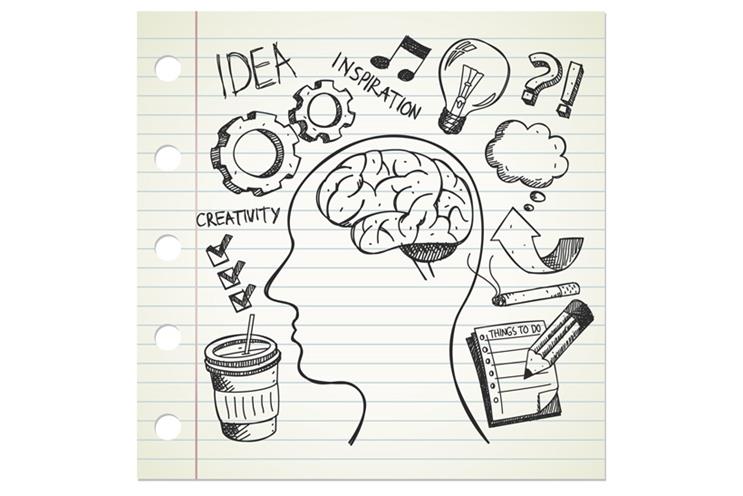 What are you doing when you get your best ideas? In my book, Too Fast to Think, I posed this question to military leaders, academics, clergy, film directors, architects and even our own industry's Sir Martin Sorrell (he gets his best ideas when he's on an aircraft, if you're wondering). Nobody has ever told me they don't have any good ideas.
Of course, people get their ideas in many ways but the most usual are when they are
a) away from work;
b) on their own;
c) not trying.
This points to something unusual about creative provenance – it seems to contain an unconscious element. Many experienced creatives describe a process that could be represented as the "four Is": induction, incubation, inspiration and ignition, in the ratio of 40:30:20:10 (in terms of percentage of time spent on each). This suggests the key to the creative process is found in research (induction) and the mysterious phase of incubation. This is the part we know least about, and the book addresses this in more detail.
"Creativity often speaks quietly. Silence is to be enjoyed. Creativity needs calm"
However, one thing is clear – the incubation phase won't begin if it is constantly interrupted. The chief way it gets blocked is by disruption and overload, the scale of which is staggering. The average business user in the US sent and received 121 emails a day in 2014 and this is expected to grow to 140 emails a day by 2018. If we assume a ten-hour day at work, even at today's levels, that's 12 emails an hour or one every five minutes.
Another survey said the number of worldwide email accounts is expected to increase from more than 4.1 billion in 2014 to more than 5.2 billion by the end of 2018. The total number of worldwide email users, business and consumer, will increase from more than 2.5 billion in 2014 to more than 2.8 billion in 2018.
The pressure to keep up with emails and other communications is changing human behaviour, and not always in expected ways. Apart from adding stress, it can also change your view of the world. The overload forces us to prioritise and filter information and news. When we're short of time, we want to know about any threat so we hear about every act of terrorism and we don't hear good news because, well, we're too busy for that. This creates a perception that the world is getting much worse. Steven Pinker's 2011 book The Better Angels of Our Nature: Why Violence Has Declined exposes this thinking.
The interruption and overload trigger the analytical processes of the mind – what has become known as the left brain. (In fact, intellectual processing is done by both sides of the brain but the analytic process is not disputed.) We know that big ideas only happen when the left-brain process is switched off or preoccupied. So, if we remain overloaded, we may never get back to the creative "ideas" state.
So how can we deal with this? Too Fast to Think explores the eight creative traits. The following are distillations from the original text.
Quiet
In Quiet: the Power of Introverts in a World That Can't Stop Talking, Susan Cain shows how to take back control. When we get rid of the noise and the clutter, we can experience sounds, smells, touch and the full senses. Creativity often speaks quietly. Silence is therefore to be enjoyed. Creativity needs calm.
Engage
You can't do anything without commitment. Creativity needs focus. So do you. Take time to listen. Take time to believe. Have faith. Believe in yourself, even if there's no logic in doing so. The more you practise this, the easier it will become.
Dream
Creativity needs imagination. This can also be practised. Encourage yourself to daydream. Stop watching the clock. Look at the clouds. What do they remind you of? Keep trying.
Release
To relax, you have to accept you can't do everything. But you do need the basics. Sleep is king. Steven W Lockley and Russell G Foster's Sleep: a Very Short Introduction is a work of genius.
Relax
Creativity will not be forced. Drive slower. Walk slower. It will not come to the impatient. Ideas do not arrive by timetable. If you live by the clock, you will not allow creativity to intervene. Waste time. Enjoy being idle.
Repeat
To gain any skill, repetition is key. But it doesn't have to be monotonous. You can try different things every day. Creativity should be your daily bread. Food should be a creative exercise. Experiment. Take time over it. Break the routine. Begin the re-education.
Play
Creativity needs you to play. You can't play when rushing. Conversation should be playful. Enjoy it. Don't press the same elevator button every day. Take time to learn new ideas and talk.
Teach
This is a vital area. The tutor is always the student. People learn a lot more when they teach. Reading is an important part of this because knowledge of the subject and the ability to compete are linear.
Our industry knows creativity can be illusive and unpredictable but we make it more so by stuffing our lives full of interruptions. The solution is deceptively simple – switch off the iPhone, switch off the overload and switch on our own potential to create.
Chris Lewis is the founder and chief executive of Lewis and the author of Too Fast to Think, published by Kogan Page