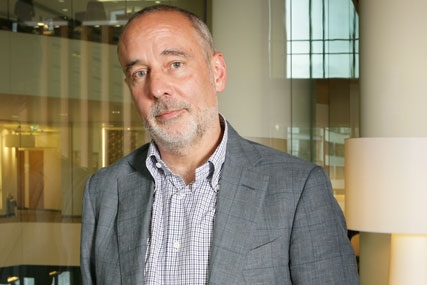 Newspaper publishers looking to paywalls, or mobile, or the iPad, to singularly replace lost print revenues are set to be disappointed, according to Guardian News & Media's leader Tim Brooks, who says simply "there is no silver bullet".

The 52-year-old managing director is, like the rest of the industry, following News International's paywall experiment with great interest. But he believes, far from reports this week that The Times has retained two-thirds of its online traffic, actual readership is likely to settle at a fraction of that.

"We did our own calculations around paywalls in the early part of last year," he says. "And the indications we've had is that the assumptions we put into our model are actually similar to the assumptions that they're working on."

Prior to erecting the paywall, John Witherow, editor of The Times, appeared to be under no illusions when he admitted it could cost the brand more than 90% of its audience. But Brooks says "to keep 10% would be astronomically brilliant".

He explains: "If you think about click-through rates and you think about conversion rates on click-through rates, and that's what marketing people are used to dealing with, and then you multiply that by an order of magnitude for the fact that you've got a strong brand like The Times; 10% would be breathtakingly successful."

GNM's leader tries to avoid being drawn on the actual number he believes his rival is looking at, but goes on to use the example of evaluating the loss of 95% of readership.

But Brooks suggests the Murdoch's have a more ambitious strategy in mind than generating online subscriptions. He points to James Murdoch's MacTaggart Lecture last summer, in which he stated his belief that there's only one media market now, and also News Corp's move to buy the 61% of BSkyB it does not currently own as soon as David Cameron came to power.

He says: "You can see a picture that they may be painting of the future where they have a sort of 'walled garden' of Sky / News [Corp] wholly-owned content offerings, including their newspapers."

The Guardian remains open to paywalls

For his part, Brooks remains decidedly pragmatic about the possibilities around paywalls.

Unlike The Guardian's editor-in-chief Alan Rusbridger, there's no talk of Rupert Murdoch "sleep walking to oblivion" or philosophical musings about the 'democratisation of the web'. For Brooks, the equation just doesn't currently fit with GNM's goal.

"We looked at the difference it will make to our net revenues, and we looked at the loss of over 90% of our audience for the gain of a very small percentage of additional revenue," he says. "That trade is not worth it from our point of view."

"For News [International], journalism is a means to an end, and the end is profit. For us it's different, journalism is our end. It's not a means to anything… and you would need very powerful journalism arguments for us to close our journalism off from 95% of people who are accessing it currently."

Interestingly, this altruism does not appear to extend to GNM's other outlets, including the newspaper itself or its iPhone app, which achieved more than 100,000 downloads in its first 10 weeks and, at a cost of £2.39, raked in more than £240,000.

Brooks reasons it is because of the open nature of the web: "You have to think about the nature of the platform that you're trading on. So if you think about newspapers, typically, it is a closed platform. That is one reason why we felt confident about charging for our iPhone app, the habit of paying for things through iTunes is an established habit."

But those who believe that the Guardian is somehow a devout champion of an open, free internet should take note, if expectations were to shift, GNM's leader has no qualms in changing direction.

Noting Google's trialling of 'newspass', a system that promises micro-payments as well as long-term subscriptions through a friction-free paywall, Brooks admits: "If the ecology of the system changes, we'll change our behaviour. We're not King Canutes here.

"We just believe at the moment, people don't expect to pay for things on the web, by and large won't pay for things on the web, and we're not a big enough animal to change people's behaviour."

Surviving the collapse of the ad market

When Media Week last caught up with Brooks at the start of 2009, he'd just unpacked his belongings at GNM's new Kings Place home; the timing of the move ensured he had prime, panoramic views as the country slipped into the worst recession in living memory.

The former IPC leader was savvy enough to caveat that interview with the disclaimer "in 2009 all bets are off", but nevertheless went on to predict the demise of many magazines and consolidation in the national press.

Among the titles he expected to see close last year was the international lifestyle magazine, Monocle, while the prospects for rival newspaper The Independent were likened to a Hammer Horror.

The Guardian, in contrast, with its shiny multimedia office space and Scott Trust backing, was believed to be "well-placed" to weather the downturn – Brooks even added reassuringly: "making editorial cuts is literally the last thing we would do."

Fast-forward 18 months and, much to Tyler Brûlé's delight, Monocle has just celebrated its third birthday by expanding its international footprint with a new bureau in Hong Kong. As for the embattled Indie, it now has more money at its disposal than any other paper in the business after being bought by Russian oligarch Alexander Lebedev.

"Now they have their own Vlad the Impaler don't they," says Brooks, with a hint of un-Guardian-like parochialism. "You just couldn't make it up. He's described as a former KGB colonel, but I always ask the question, when do the KGB announce that people have retired?

"The idea that you've got an ex-KGB guy running a supposedly independent, national newspaper from the offices of Lord Rothermere is just perfect. If you submitted that as a synopsis for a novel it would be rejected on the grounds of implausibility. Good luck to them."

The Guardian Media Group, meanwhile, has made some 300 redundancies (around 100 of which came from GNM editorial) and lost a number of high-profile senior figures, including its chief executive of 24 years, Carolyn McCall.

It has, by any definition, been a torrid time for the business, and Brooks is understandably defensive.

"We were hit in exactly the same way that everybody was hit last year in the collapse of the advertising market," he says. "And we've done pretty much exactly what everyone did last year, which is to take 18-20% out of our costs, and that involved, among other things, 300 people losing their jobs here. And we regret that very much."

At its lowest ebb, GNM, home to both The Guardian and The Observer, was haemorrhaging more than £100,000 a day in running costs. Such losses focused the mind of even the benevolent Scott Trust, and made the unthinkable thinkable: the prospect of closing the Observer, the world's oldest Sunday newspaper, was on the table.

The paper was saved by a series of cost cutting initiatives, including job losses and a clever redesign. Across GNM more than £26m worth of savings were found for the year to March 2010, enough to peg underlying operating losses at £34.4m, on a par with £33.7m the year before, despite the sluggish ad market.

Today the publishing leader is confident GNM finds itself "on a much better cost footing for this year", bolstered by "very significant growth" in digital properties. Yet digital revenues are still only "getting on for 20% of the total business", begging the question is the transition sustainable?

"The reason these assets [The Guardian and The Observer] were placed into a trust in the first place, back in the 30s, was to protect them from those [financial] pressures and to allow us to take a long-term view," says Brooks.
At the forefront of industry innovation

The presence of the Scott Trust as sole shareholder of GMG should not be mistaken as grounds for complacency. The group in general, and The Guardian in particular, has been rightly credited with driving industry innovation.

Despite print circulations being regularly dwarfed by rival newspapers, its site, Guardian.co.uk, has attracted the most unique browsers for much of the last decade. It currently stands only second to MailOnline with around 36m monthly uniques.

It has also often led in terms of engagement too, and set industry standards for blogs, video, tweets, and much more besides.

Brooks claims such innovation is paying dividends. Referring to the old adage of "swapping analogue dollars for cents", he says at GNM it's now "more like digital quarters".

But he warns that's as good as it gets. Instead of publishers trying to find direct replacements for traditional stellar revenue streams of copy sales, display and classified ads, he believes having more fingers in more pies is now the name of the game.

"In the future there will not be those three big revenue streams. You will have lots and lots of revenue streams, and most of them will be much smaller," he says. "There's no silver bullet in the digital market, I wish there was."

The strong audiences achieved by The Guardian's open approach to digital do provide opportunities beyond online advertising. Guardian.co.uk/environment for example is the most read environmental resource in the country, and in a normal month ranks among the top five in the world.

Last month GNM launched its first Sustainable Business Quarterly, a network built from the huge funnel of people provided by the section of the site that is sponsored and already commands a huge waiting list. Similarly, the site has mobilised, and monetised, its football fans by offering tickets to attend weekly podcasts, with a beer or two thrown in.

Both examples indicate the Guardian's own approach to monetising the web. As any luxury car salesman will tell you, the best way to sell people high-ticket items is to get them directly in front of you.
The fall of the national newspaper
Click to enlarge the interactive chart

Whether you subscribe to an open or closed web strategy, there is one thing the Guardian leader says cannot be overlooked: "Consumers are losing the habit of buying newspapers."

Surrounded by views of the Regent's Canal outside his office window, Brooks turns to the British waterways for inspiration.

"The canal system was the most efficient way of getting goods from A to B in this country and there was a lot of investment and infrastructure. Then someone invented a better way, the railway. Ironically the railways came along just about the time the canal network was perfected, but the canal network became redundant within 20 years."

GNM's managing director notes how the number of British newspapers in daily circulation has fallen from around 50 million in the fifties, to little more than 20 million today. The onset of digital media has only served to exacerbate the declines.

Brooks says: "The internet's more efficient at getting news and advertising to people quickly and cheaply. It's not that newspapers' are going to swing back at some point. The shift to digital is inextricable.
"The future of our business, as an information business, is digital."
Brooks on…
Facebook
Might be doing everyone a favour by showing big advertisers how to successfully advertise online. Making display ads work online has been a challenge the industry is still grappling with, maybe Facebook can be a catalyst. The language of advertising on web pages hasn't yet been perfected in the same way it was for television or print advertising a long time ago.
iPad
A completely fantastic piece of kit. It's a harbinger of a whole wave of tablet devices. I do think it'll change people's habits but at the same time, it's another platform and can be expensive to develop on. It's not the silver bullet and does not get publishers out of jail. We have a photography app called iWitness, sponsored by Cannon, and will launch other apps in the future.
The economy
Fears of a double dip are real. It's very difficult to see ahead in the advertising marketing at all. If I talk to people on the buying side there is significant uncertainty now about the autumn.

Osborne's budget assumed that over the lifetime of this parliament public sector expenditure would go from 47% to 40% of GDP, but it will be offset by private sector growth. Such a switch has never happened before. I think we have to be prepared for the markets that we trade in to be difficult for several years.
The London Evening Standard
It's better than everybody, including myself, thought it would be as a free newspaper. But let's not get carried away, it's not a proper newspaper. If you wanted to know about the serious things happening in London, in terms of transport policy, crime or education, you wouldn't find it in the Standard. It's great if you want to know who's been to parties and stuff.
Andrew Miller
I think he's a really good appointment [as new CEO of GMG]. He knows the group and we've had time to get to know him. A really good guy, extremely pragmatic and straight. He says what he thinks and asks a lot of questions.