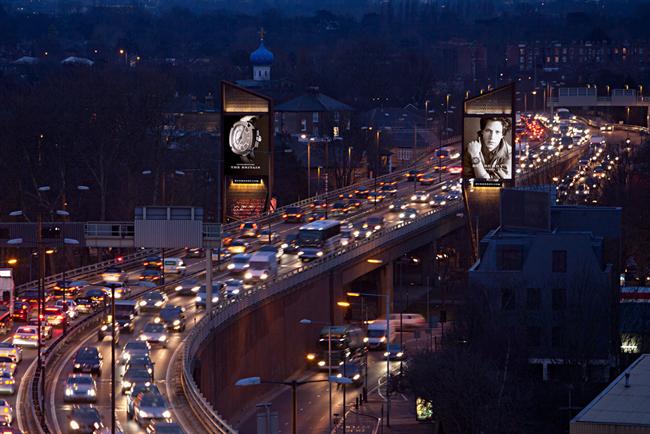 New figures compiled by the Outdoor Media Centre (OMC), based on the performance of its industry members, highlight a record quarter four was enough to lift annual revenues by 2% to near the billion-pound mark, at £989.6 million.
Between October to December 2013, outdoor advertising generated £277.3m, which represents growth of 7.2% year on year and is the biggest quarterly spend ever reported by outdoor media owners.

Media owners, including the biggest players JCDecaux, Clear Channel, Exterion Media and Primesight, particularly benefitted from spend in retail, entertainment, travel, drink, computers, clothing and cosmetics during the Christmas period.

The top 10 advertisers in the quarter, according to Nielsen, were (in descending order) Samsung, British Sky Broadcasting , Twentieth Century Fox, Lloyds Bank, Vodafone, Warner Bros, Google, Microsoft, Talktalk and Molson Coors.
Digital revenues in the quarter accounted for £64.6m, up 15% year on year. The revenue highs follow continued investment in digital screens that often promise more tailored and flexible ad solutions for brands.
Collectively, outdoor media players are believed to have spent more than £50 million on bringing a host of new sites to the market last year.

New digital sites of note in 2013 include: Waterloo Station and Heathrow Terminal 2 (JCDecaux); Tesco's facial detection screens (Amscreen); Chiswick Towers, Cromwell Road and Piccadilly Circus (Clear Channel Storm); Gatwick Airport (Eye),Vauxhall and the A40 (Outdoor Plus), Trinity Leeds shopping centre (Ocean's The Grid), regional offerings from BlowUP and Signature in Birmingham, Mediaco in Manchester and Forrest in Scotland.

The growth in the UK's outdoor advertising space comes despite the sector being among the biggest media sectors to benefit from the London 2012 Olympics, when ad spend rocketed 10% annually in 2012, and more than 25% in the third quarter during Games.

Mike Baker, chief executive of OMC, called it a "remarkable" performance after such an Olympic spike . He added: "Outdoor is a sure-fire way to reach the right consumers in the active space, the right contexts and the right mindsets, and as a result advertisers are multiplying: we now have 158 one million-pound spenders in outdoor, up from 149 last year."

This year, the OMC is attempting to refocus outdoor's positioning to the advertising community around five core value propositions: Young Urban Mobile audience; The Active Space – where the senses are heightened; Impressions that Last - playing on its visual impact; The Amplification Medium - due to its ability to be a catalyst for other media in terms of reach and branding; and Changing the landscape – physically creates modernity at every turn and provide new opportunities for brands.
Outdoor revenues
2012
2013
£
%
£
%
Transport
£388,792,991
40.1%
£379,805,286
38.4%
Roadside
£464,600,962
47.9%
£483,954,878
48.9%
PoS/Retail/Leisure
£116,752,247
12.0%
£125,859,416
12.7%
Total
£970,146,200
100.0%
£989,619,582
100.0%