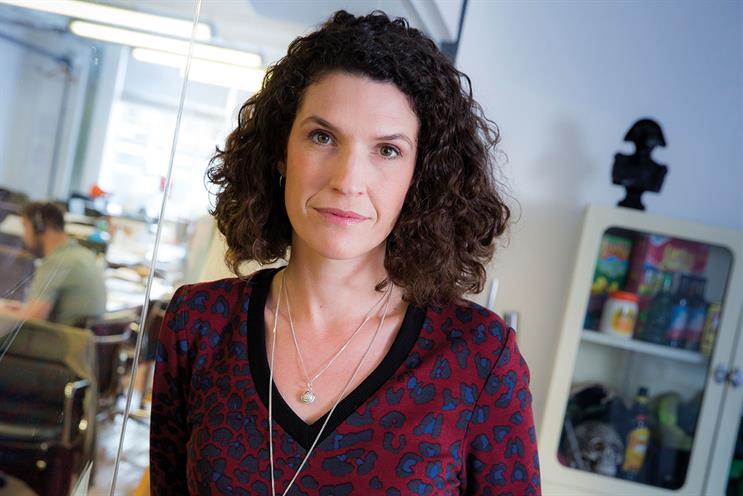 Starting in October, Tate will serve as chief executive alongside Andy Jex, chief creative officer, and Anna Vogt, chief strategy officer, who were both appointed in July. Tate joins the pair after a decade at Mother and a short stint at Lucky Generals, whose founders led the search for the management team following its deal with TBWA Worldwide earlier this year.
While TBWA\London has a storied history of brilliant creative work and alumni, in recent years it has lost its sheen with little inspiring output and a revolving door of management. But Tate, like Jex and Vogt before her, told Campaign she was eager to take on the role to help restore the agency's crown. They bring a new sense of energy to the flagging brand, but they have a big job ahead of them.
Tate will have at least one advantage upon starting the new role: experience working with Jex, who was a colleague of hers at Mother before he joined Saatchi & Saatchi London. Following her appointment she talked to Campaign about how she, Jex and Vogt will collaborate and their plan for rejuvenating the agency.
So why TBWA?
At Lucky Generals they were talking about completing that [TBWA\London management] trio and I was listening with interest. Once they suggested the idea of me taking the job, I was instantly really excited. I hadn't considered it before, but it's a big, juicy role and seemed like a no-brainer step. Having someone there who the guys know and trust will make the role more successful because we worked together before.
I grew up admiring the TBWA brand and the work that came out of that building. Like Jexy, I once interviewed there and have always had an eye on it. It's one of those brands that creatively minded people root for. [TBWA\London] is the best of both worlds. It's a brilliant brand with massive entrepreneurial spirit, but at the same time it has the support and opportunities that come with an agency network. It's a killer combo.
How are you going to help get the agency back on track?
It would be a mistake to go in and think, right, there needs to be a revolution. It's really important to understand what untapped power already exists there with the talent and clients. It's about going in and trying to generate some positive momentum and energy and adding that into the mix. It is all to gain there.
There will be no silver bullet but lots of small things. We [Jex, Vogt and I] agree that we want to get stuck in – we're not going to be a team where we sit on the sidelines, but will be meeting clients, pitching, and trying to understand and amplify what's already there.
We set a lot of store in creating an environment where people are able to deliver their best. Jexy and I were both brought up at Mother, where collaboration and creating that great atmosphere is really important. That stuck with us. Anna also cares massively about the culture we will be asking people, talent and clients to join. We understand to get the best out of people we've got to give the best we can – providing an environment where they feel supported, and letting them see we bring as much positive energy to the work as they do.
I strongly believe that there is no room for assholes. This doesn't cover anyone there, but the days of everyone bending around a brilliant but difficult person are done. The three of us know we need to demonstrate that we work well together and will support each other as well as we support our team.
How do you, Jex and Vogt work together?
We know the three of us need to function really well as a team – people need to know when they come to us that we're united. We've tried to spend as much time together as possible and we talk all the time even though we're not there yet. We'll all sit together in the office. At TBWA they're all on one floor in one room, which is a brilliant way to collaborate.
Jexy is hugely experienced in doing a role of this nature before – creatively driven in a robust network agency. Anna is full of ideas, massively ambitious, and good at coming up with new ways for things to be done and new approaches to bringing teams together.
I'm the gobbier, noisier of the three. [We] aim to be a tight team, and to be really present with people.
What do you anticipate the biggest challenges will be?
Trying to be patient and not expecting the world to change overnight. We will be looking for small signals of things moving in the right direction, and trying to manage all of our expectations there around how quickly things can change. These things can take time.
Keeping the energy up, and not getting disheartened when not everything every week goes our way, because it doesn't. There are good days and bad days. Keeping our chins up, believing, and encouraging everyone else to believe in our shared purpose. Hopefully 18 months from now we can look back at successes.
What will that success look like?
It all comes down to the creative work. We're all aligned in that. That will continue to be and become even more of a reason why clients seek out that agency. It will also mean winning domestic business. Work can be done on a European and global scale but domestic business will raise our profile and give us opportunities to make more. People are happy when they're making work so we want to see a lot of stuff coming out that we're proud of.
[The agency] should provide a really creative option for ambitious clients, people who still believe in disruptive thinking and don't just want their creative output subsumed in a bundle deal. Once we've got that energy and positive momentum, I hope that clients view it as a compelling option.
What would you say to people at the agency now?
We fully appreciate that this isn't everyone's first rodeo. It will be important for us at the beginning to understand the place, clients and potential, rather than going in and saying, "here's the plan". We already admire the brand from afar. We reassure them that we're going to be present and going to be a team, going to take time to work with them and understand what needs to happen. People there understand the brand much better than we do on day one.
TBWA bills itself as "the disruption agency"? What does that really mean?
Disruption needs to be a mind-set that people have that we bring to everything. TBWA has always had an entrepreneurial spirit. It's disruptive modes of thinking, but it also means the way we handle accounts – leaning in to how clients work and really listening. Disruption is not just about work that breaks the mould but all the other elements as well. It's encouraging people to be entrepreneurial and feel empowered.